Google+ Pages Announced For Businesses [Video]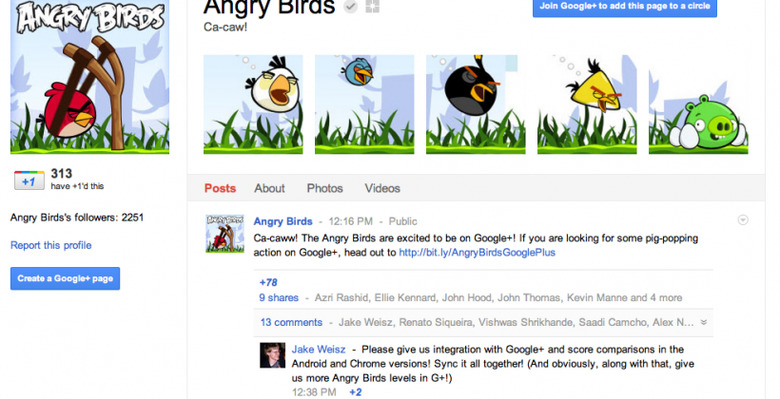 This week brands, businesses, bands, and more are being welcomed back to Google+, provided they didn't get offended after having gotten kicked out several weeks ago, in an initiative known officially as Google+ Pages. As Bradley Horowitz, VP of Product for Google+ notes, "As most of you know, we "kicked out the brands" in the early going on Google+... Not because we don't love them (we do!) but because we wanted to create the right experience for users, as well as the brands themselves." Will the Google-based social networking powerhouse be able to gather the brands to its bosom?
You can see one of the first pages to be accepted into the fold by searching for Angry Birds. What you'll notice is that the page is essentially the same as your own profile save for the couple of extra marks that appear aside the brand name, one assuring you that this is indeed Angry Birds, the other showing that this is a page. You can +1 Angry Birds because it's something you love, you can interact with Angry Birds via comments, and you can see updates from Angry Birds as if they were a normal human Google+ resident.
Obviously also this gives a great opportunity to institutions, groups, and even one-person businesses to get their group off the ground with a network-connected page in the ever-growing ranks of Google+. What's more is today Google has also announced Direct Connect, a way for people to find your business directly through Google's main search engine – it's just a + away! Have a peek at how the whole system works here:
And of course no presentation of a Google+ event would be complete without a celebrity endorsement, of course, so here's the Muppets!
[via +Bradley Horowitz]