Google Offers trial to take on Groupon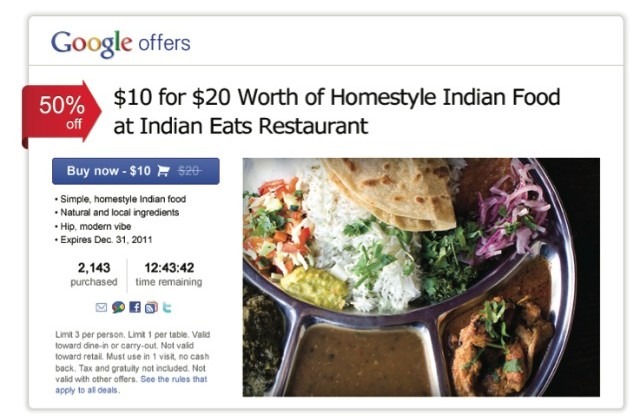 Google has confirmed that it is working on a potential Groupon rival, Google Offers, enlisting small businesses to take part in group purchase schemes. The project was leaked by a Mashable tipster and later confirmed as a work-in-progress by the search giant itself; Google had previously attempted to buy Groupon for $6bn in 2010.
Google Offers follows the established process of offering a certain deal in which a group of buyers get goods or services – such as meal vouchers – for a discount price, assuming enough opt in. The company has said it plans a test of the system before a full-scale launch:
"Google is communicating with small businesses to enlist their support and participation in a test of a pre-paid offers/vouchers program. This initiative is part of an ongoing effort at Google to make new products, such as the recent Offer Ads beta, that connect businesses with customers in new ways. We do not have more details to share at this time, but will keep you posted" Google statement
According to Mashable, Google will pay out 80-percent of a business' revenue share within three days of the deal running, the remaining 20-percent being held back for a sixty day period in case any refunds are necessary. There's no word on when the Google Offers test will launch.