Google Nexus One $180 with contract tips leaked purchase page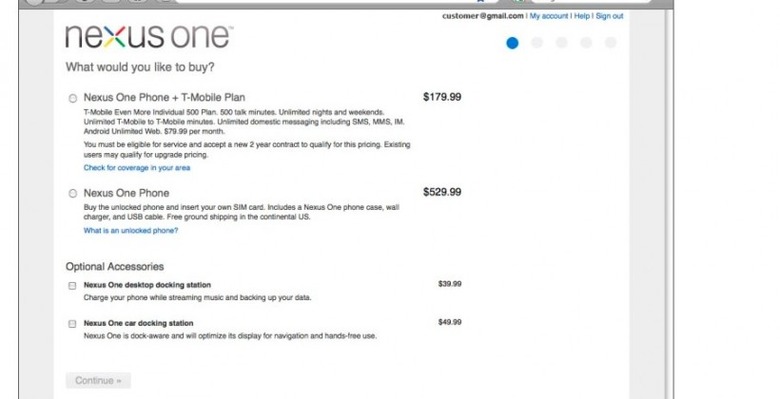 Today's Google Nexus One rumors really add some meat to the bones of the Android 2.1 smartphone, and with the upcoming "media gathering" – which SlashGear will be attending to bring you back all the juicy details – just a week away we've finally got some solid pricing details.  Both Gizmodo and Engadget have been sent leaked screenshots from what their respective tipsters claim to be the Google.com/phone sales page, suggesting a $530 unsubsidized price or – if you're willing to sign up to a two-year agreement with T-Mobile; more plan details after the cut – a subsidized $180.
Only one plan will be on offer, T-Mobile's Even More + Text + Web which comes out to $79.99 per month.  That makes the total cost of the Nexus One just under $2,100 over the course of the contract; you won't be able to keep your existing plan if you upgrade to the subsidized Nexus One on T-Mobile, so it might work out cheaper for you to stump up for the unsubsidized handset.
To buy the Nexus One you'll need a Google Checkout account, and each of those accounts can buy up to five devices; if you want to use the phones with a T-Mobile Family, Flexpay, SmartAccess or KidConnect plan then you'll have no choice but to go for the $530 unsubsidized version.  Cancelling a plan before 120 days is up will mean you have to either return the Nexus One or pay the difference between subsidized and unsubsidized, i.e. $350.
Interestingly, in the Terms of Sale [PDF link] there's talk of shipping outside of the US, which will leave the buyer subject to their country's taxes, import duty and the like.  Google may be planning to distribute the Nexus One in a similar way to Amazon's International Kindle, which can be shipped to multiple countries but only from one US location.  A neat detail is an engraving option for the back of the Nexus One, on a metal (or metallic-look) strip; however there'll be no refunds if you take them up on that offer.
The talk is of presales kicking off early on January 5th, the same day as the Google event at which we're expecting the Nexus One to be officially announced.  Anybody still interested in picking up the Android 2.1 smartphone?