Google News gets instant Google+ sharing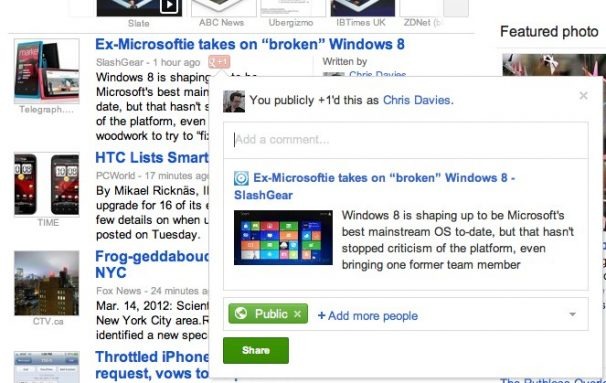 Google has quietly updated Google+ and Google News with closer integration, making promotion of news stories among your social network circles more straightforward. Although Google News did have "+1" buttons before, a redesign of the icon has arrived today; clicking it brings up a sharing box for a comment.
That sharing box can, like all Google+ posts, be set to be visible publicly or only to certain individuals or circles you've set up on the social network. It's also possible to not add a comment at all, and merely "+1" the story as before.
The change is the latest example of Google's evolving social strategy, as the company attempts to better integrate Google+ into its more established products. Earlier this month, senior VP of engineering Vic Gundotra described the social network as part of a greater strategy, dismissing claims that it had been a failure and instead arguing that it was a type of glue that could better draw together different elements of Google's range.
Whether streamlining sharing directly from the Google News page increases adoption of the social network is enough to boost usage remains to be seen. You can find SlashGear on Google+ here.