Google Music Spinal Tap event announced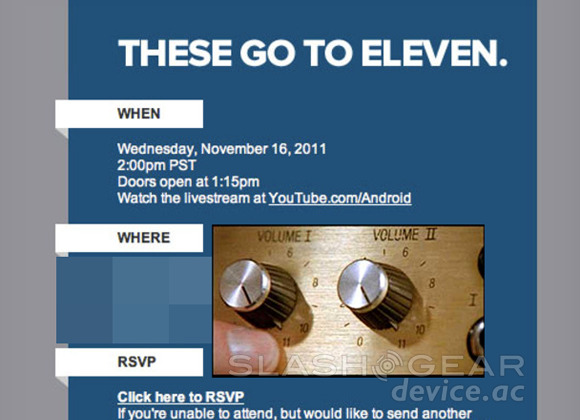 This week we've gotten word via a lovely invitation from the big G that a Google Music event will be coming this month. This event's title suggests that it will somehow relate to none other than everyone's favorite fake shock rock group, aka England's Loudest Group, Spinal Tap, what with the "These Go To Eleven" note right up at the top. Will we see some purchasing of music coming to our doorstep soon?
This event invite reminds us of an announcement just this past month from Google that Google Music would indeed by coming soon with an update that would be "a twist." On the other hand, this new vision might come in the form of a piece of hardware, but software seems much more likely. Let's see some dipping into the streaming music business, Google, perhaps a bit of the ol' purchasing of tracks to mix things up.
This even is of course one that we'll be covering live as it goes down on November 16th, 2011, that being a Wednesday, at 2PM PST. You can also follow along with us at the livestream as mentioned in the above image at YouTube.com/Android, and note that we'll also be wearing our Spinal Tap gear that day JUST INCASE Nigel shows up. Meanwhile enjoy this classic clip: