Google Media Holiday Party announced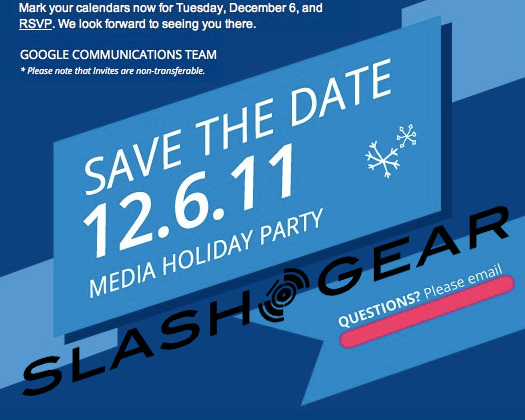 The fine folks at Google have sent out invites to their annual Media Holiday Party that'll be taking place in December, complete with a couple of lovely snowflakes for accent. This event is set to be a fun night of eats and drinks for friends and members of the media in what's known as an "off the record" event. Whether or not that means there will be devices and services and chatter there that will be newsworthy, we can't be sure! What we do expect is some gingerbread cookies and a whole load of ice cream sandwiches aside some well-mixed drinks, that's for sure.
This event's invite is one of a yearly celebration that often ends up being more than just a good time had by all. Since not much else about the party can be said other than it appears blue and white are the theme and that the Google Communications Team is excited to have us, let's have a quick talk about what will be in play by then: the Galaxy Nexus. Whether or not this device will be up and out this month is still up for debate, in a way, but by December we can sure as heck hope we've got them in our hands, right? That said, we could just drink the night away with our Samsung Galaxy S II handsets and pretend.
By then we'll also have the new Google Music setup up and active, that we'll get more details on later today. We did get a glimpse of what that might look like earlier in the week, but certainly join us at 2PM PST to see all the details. Follow along with us on the YouTube feed at http://youtube.com/android and check out any and all in-house photos and hands-on action we get right here in the main SlashGear newsfeed.