Google "Mario" And "Andretti" Chrome OS Netbooks In Internal Speed Testing?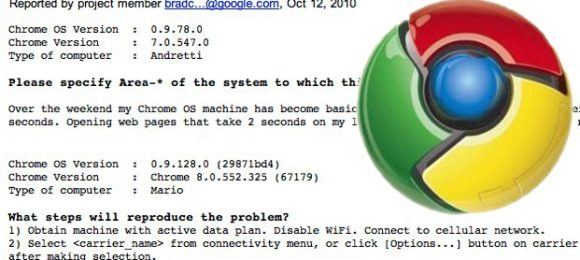 Google is tipped to be "dogfooding" two own-brand Chrome OS netbooks, internally codenamed "Andretti" and "Mario", with frequent mentions of the two computer types showing up in bug reports online. The models appear to be named after IndyCar driver Mario Andretti, known for being a particularly fast driver, and would suggest that Google is prioritizing netbook performance with its first self-branded models.
The two machines have gradually been taking over from the seemingly generic ASUS, Toshiba and Lenovo netbooks previously most common in the bug reports. They were then phased out by hardware referenced as "dogfood" computers, themselves replaced by the Mario and Andretti netbooks.
Interestingly, Google has also been test-running a Chrome OS version called "Indy", further adding to the speed connection. Earlier this week rumors spread that Google's Chrome OS hardware would be delayed into 2011, after CEO Eric Schmidt said devices running the cloud-centric OS shouldn't be expected for the "next few months."
[via TechCrunch]