Google Maps Just Gave iPhone Users A Fun UI Treat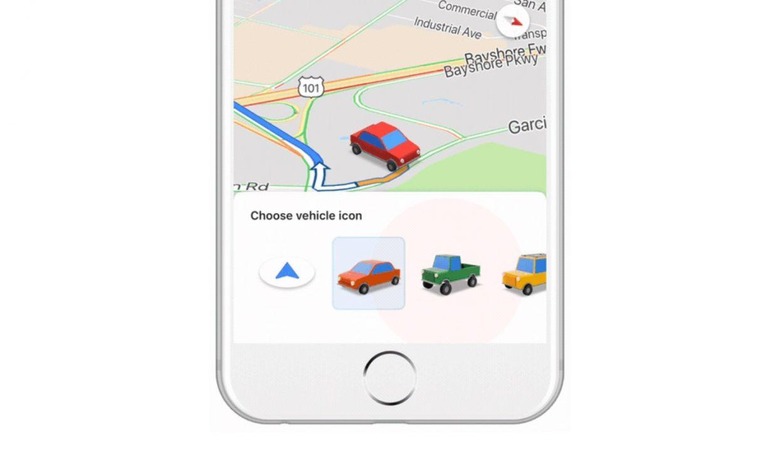 Google Maps is adding a cute new interface tweak, though right now only those using the iOS version for iPhone and iPad will be able to play with it. The new Google Maps for iOS is getting a customizable navigation icon, for those bored of the traditional blue arrow that shows where you currently are on the map.
Instead, users will be able to choose between three new 3D vehicles to take its place. There's a red sedan, a green pickup truck, and a yellow SUV, all rendered in 3D for use in the navigation UI. You can switch between them by tapping on the icon itself and then swiping though the three new options; that's also where you can switch back to the default arrow if you're feeling old-school.
The vehicles themselves are more 8-bit in their design than accurate representations of actual cars. Still, they bounce with eager glee at getting onto the road, and there's a playfulness which your kids might get a kick out of.
Certainly, it's not the first time we've seen customizable graphics in navigation. Indeed most standalone GPS devices intended for in-car use have allowed the car icon to be customized according to driver taste. Google's advantage, though, could well be its connectivity: it'll be able to add in new car models, and maybe even allow users to pick the same vehicle that they're actually driving, over time.
Unfortunately for those using Google Maps for Android, there's no sign of customizable vehicle graphics on there yet. Google hasn't said whether it plans to extend the new icons to users of its own OS, though that would seem an obvious route for the company to take.
The updated Google Maps for iOS, with these new graphics, is rolling out now. You'll need to be in navigation mode, with an active route, in order to actually see the new graphics.