Google Maps for iOS updates with Google Contacts, local search improvements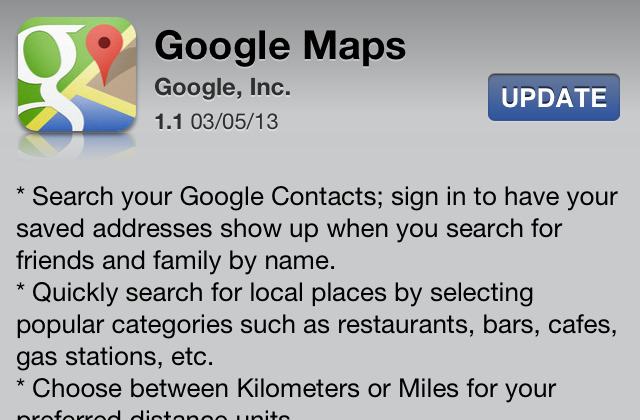 Google Maps for iOS received its first major update today. Google Contacts are now integrated into the app, so it'll now show your contacts' addresses on the map when you search for their name. Plus, local search results have been improved, allowing users to narrow down options by choosing from categories like restaurants, etc.
What's perhaps the best part about the new Google Contacts feature is that Google Maps will import your contacts' addresses from your Google account, so there's no need to keep the addresses stored on your iPhone. However, you will have to be signed into Google when using Google Maps in order for that particular feature to work.
The improved local search options include a section called "Nearby Places" where you can browse and discover new places that are near you. Categories consist of restaurants, bars, hotels, post offices, gas stations, and more. It can certainly be helpful in your hometown, but it can be an asset if you're roaming around in unfamiliar territory.
Google Maps made its return to iOS back in December by releasing a completely native app. This came after Apple ditched Google Maps in favor of their own mapping solution when they released iOS 6 back in September. YouTube was also ditched, but Google quickly released their own YouTube app to make up for the loss.