For those of you with Google Maps on your Android device (every single one of you with an Android device), you're about to get an update to that app, and it's a big one! The actual file size of the app is not what's big, its the features you're going to get now with this update for the most advanced devices on the market. In addition to High Definition support for devices like the Galaxy Nexus, this app also has preferred public transit mode and route options and a new look for Android 4.0+ devices.
This newest version of Google Maps has a new look for the new aesthetic of Android 4.0 Ice Cream Sandwich, as seen above. This version of the app is made with the Galaxy Nexus in mind first, so you'll see that aspect ratio displayed. This app will of course work with all devices that already run any version of Google Maps – its diverse!
Next, after watching the video above and seeing that yes, indeed, this version of Google Maps still does all the awesome stuff it's always done in addition to the feature's we're letting you know about here, you'll see two squares below. These visions of Seattle show the previous style on the left and the enhanced style on the right including "crisper, faster maps for high pixel density devices." This allows you to see a "less cluttered" map that's much easier to read if you've got an HD display.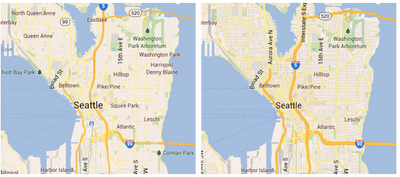 Then there's Google Maps 6.5's ability to choose and prioritize transit mode. This mode has been in the works for some time, and indeed we've been using the bus and walking modes for some time now, but this version has a "Recommended Route" that's much more advanced than ever before. This public transit mapping is available in 475 cities around the world – amazing!
The Google Maps YouTube page also has a set of 12 new videos to show off how amazing this app is on the Android platform – unstoppable! Be sure to Update Google Maps here on Google Play today!