Google I/O registration starts March 13, Google+ and Google Wallet required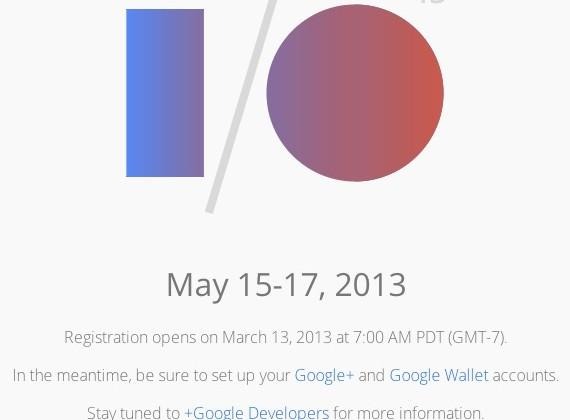 Google I/O is coming a bit earlier this year. The event is set for May 15-17, which is over a month earlier than last year's Google I/O conference, which took place towards the end of June. However, we could see some good things come out of the conference. If you're planning on attending, registration officially opens on March 13 at 7 am PT.
What's perhaps most interesting however is that registration requires both a Google+ account and a Google Wallet account. Granted, most folks who are planning to attend such an event will most likely have both of these already set up and in use, but we suppose the added requirements will weed out some of the undesirables, but an official reason wasn't disclosed.
Google hasn't mentioned any details as far as what to expect at the conference, but we're guessing that Google Glasses will make, yet another, big appearance on stage. We've seen it in action before at Google I/O 2012, complete with skydiving stunts, but it's possible that the company may announce further details about the product.
Google I/O 2012 was actually quite a huge deal for Google. They announced a slew of new products, and unveiled some great updates to their Android platform. They announced Android 4.1 Jelly Bean, the Nexus 7 tablet, Nexus Q, and of course, the Google Glasses. Plus, they unveiled a bevy of feature-filled updates for Google+, Google Maps, and YouTube.