Google I/O 2012 sells out in under 30 minutes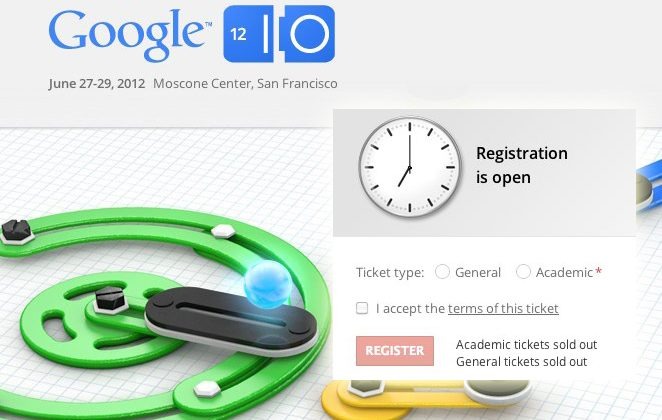 Google I/O tickets for the 2012 event have already sold out, taking less than thirty minutes for eager developers to snap up all of the coveted entry passes to the three day Google-fest. Put up for sale at 7am Pacific today, academic tickets were snatched up by 7:28 at $300 apiece, while regular $900 tickets were gone shortly after that.
Interest in Google I/O is always strong, not least because Google generally likes to reward its developers in attendance with freebies. Last year, the company handed out special Galaxy Tab 10.1 slates running Honeycomb to encourage coders to come up with Android tablet apps – whether that worked or not is arguable – among other things.
Whether that generosity has encouraged those with more of an interest in free gadgets than developing to sign up remains to be seen; of course, there's no guarantee that Google will even give anything out. One possibility is the rumored low-cost Nexus Tablet, expected to hit the market for around $200.
If you didn't score a ticket this year, don't worry. SlashGear will be at Google I/O 2012 in late June, bringing back all the details of the announcements, and Google is generally prompt at getting its video keynotes live for those who couldn't be there in person.