Google+ Hangouts SMS integration coming soon, says Google

Google+ Hangouts got a major face-lift yesterday when Google announced that all of their chat services would be merged together into one app. Essentially, users can now message each other over various platforms, as well as video chat. Furthermore, you can send someone a message without even them being signed in, hinting to the possibility that Hangouts could be an SMS replacement.
Indeed, it seems that's what Google's plan is. Google employee Dori Storbeck, who is the community manager for Hangouts and chat said that "SMS integration is coming soon" in a reply in one of her Google+ posts. This confirms that users will be able to replace their text messaging service with the Google+ Hangouts interface.
Of course, this wasn't the only confirmation that we've been hearing about. As it turns out, one of the permissions listed for the app in the Google Play store mentions the ability to read and send SMS messages, meaning that the feature could already be in the app, but simply just needs turned on by the folks in Mountain View.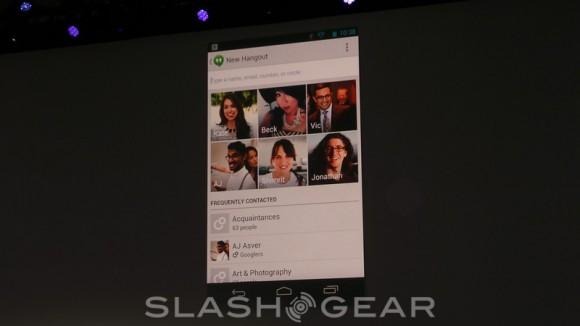 Google+ Hangouts was announced during the Google I/O keynote yesterday, and it's available for Android, iOS, and Chrome. However, the SMS integration will most likely only be available for Android, as we would have a hard believing that such a feature would come to iOS, knowing that Apple likes to keep things a bit more tight around the waist.
You can grab the Google+ Hangouts app right now for both Android and iOS, and Chrome users should already be seeing the new service if they have automatic updates enabled. You'll be able to chat with friends on their mobile devices while you type away in the browser. There's no word of a desktop app, but seeing has Google isn't into that with Hangouts, we probably won't see on anytime soon.
VIA: The Next Web