Google+ Hangouts add free conference calling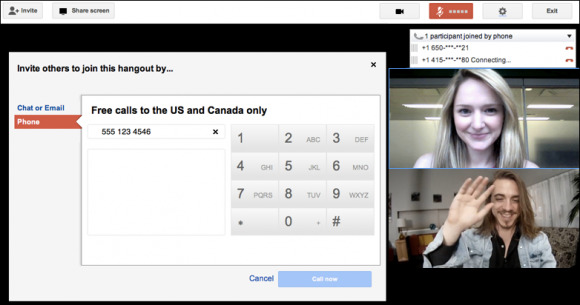 The first time we used the Hangouts feature on Google+, the group's social media network, just a few short weeks ago, the team here at SlashGear suddenly found our around-the-world group of misfit publishers in a very real room with video chat – now we're to understand that this service will be expanded with free phone call-ins. What this means is that if you've already started a Hangout and you know your friend is mobile, you can call them in. The great thing about this is that it works for any kind of phone, just so long as the person being called can talk on it.
What Google+ Hangouts allows you the member of Google+ to do is video chat with your contacts – but more than that, you can share YouTube videos, have a single person sitting in the hotseat, and share your desktop as well. What mister Jarkko Oikarinen of the Google+ crew now tells us is that due to the many requests they've received for the additional functionality, they've integrated a new function that allows you to activate a party line in your Hangout. This feature will be rolled out into the testing space for Hangouts known as "Hangouts with extras" – this is also the place where the desktop show is still in Beta as well.
Now all you'll have to do is Invite people to your Hangout, click the Phone tab on the left of the window, enter the phone number you wish to dial, and hit call now. Sound like the free phonecall service you've been waiting for all your life? Now if only this had come out 5 years ago when people sill used the voice function on their cellphones, we'd all be happy!
[via Google+]