Google Glass XE10 adds Transit directions but no native apps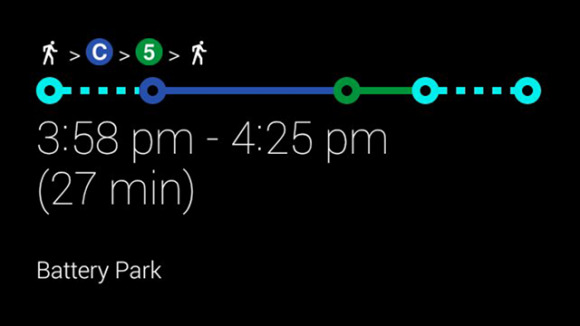 Google has updated its Glass wearable with public transit directions, with firmware XE10 turning the headset into a city navigator, though the much-anticipated local app support is still missing. The new Glass OS works with the Android MyGlass app to push transit information about buses, street cars, subways, and other public transportation options to the eyepiece, with not only timetables but guidance on where to change trains, the distance to the nearest bus stop, and overall ETA. It's not the only new feature to arrive in XE10, too.
For instance, there's also support for viewing links in notifications, which previously were inaccessible on Glass. Any links included in tweets, text messages, emails, and other notifications can be opened by tapping on the card and choosing the new "View site" option.
The other change brought in XE10 is the inclusion of profile pictures in the background of message or comment cards.
Google Glass Transit is only available in select cities, and the nature of the information offered depends on which transportation companies have opted to open up their data to Google. Still, it's an obvious inclusion for Glass, which arguably makes most sense as a way to discretely inject local information into your eye-line when you're visiting a new location.
The same data is obviously also available on Android phones – and, indeed, through comparative apps like Nokia Transit on Windows Phone – but by putting it in Glass it means you needn't keep pulling your phone out as you move between transportation methods.
Unfortunately, one of the additions to Glass we'd been hoping for – the ability to run local software on the wearable – is still yet to be included, despite rumors that it would be a part of XE10. Instead, Google is focusing on cloud-based apps that communicate with Glass via the Mirror API; earlier this month, it opened up the Glassware Review Process for developers wanting to distribute their apps and services more officially.
Those "Explorers" with Glass should get the XE10 update pushed out to their headset automatically. The transit directions can be triggered by saying "OK Glass, get directions to..." and then tapping on the resulting card and swiping over to "Transit"; Glass will then remember your last transportation choice for future navigation.