Google gives Nexus 5X, 6P a holiday price cut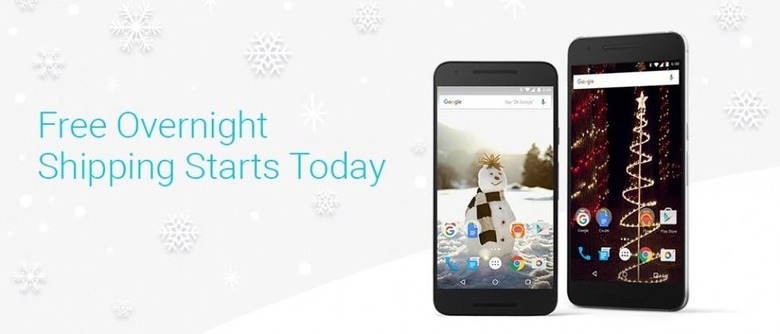 It's the season for giving and the season for discounts. To make the latest generation of Nexus smartphones more enticing as a gift option, either for others or for one's self, Google is giving out a discount for the Nexus 5X and Nexus 6P until the end of the year. Or month. It's not a massive discount, only $50 for both, but, especially paired with the very time limited overnight shipping, it does make the already tasty Android flagships all the more mouthwatering.
It may still be plastic, but the Nexus 5X makes for one fine mid-range smartphone. Of all the smartphones in that range that we examined, it came out as the one having the highest specs around, with a 64-bit Qualcomm Snapdragon 808 processor, 2 GB of RAM, a 5.2-inch Full HD screen, and a 13 megapixel rear camera.
Sadly, it was also the one with the highest price tag, coming out at top with $379. The $50 discount then brings it down to Earth just a wee bit. $329 isn't near the OnePlus X's $249 and way too distant from the 2015 Moto G's $180, but the features, especially regular software and security updates, might be worth the price.
On the other hand, the Nexus 6P can be considered one of the best among Android's finest this year. That is, depending on how much faith you put on some stress test. The first all metal Nexus, the Huawei-made smarpthone flaunts a Snapdragon 810, 3 GB of RAM, a 5.7-inch WQHD AMOLED screen, and a digital camera class 12.3 megapixel camera sensor from Sony.
And this time, it's even the priciest kid on the block. The regular $499 price tag already makes it one of the most affordable, but bringing it down to $449 makes it even more tempting.
And to top it all off, Google is offering free overnight shipping of these devices in the US. But don't take too long to ponder over it. While the $50 Nexus discount is in effect until December 30, only orders placed between December 16 and 22 are eligible for the free overnight shipping offer.