Google+ For Android Updated: New UI And Mobile Hangout Control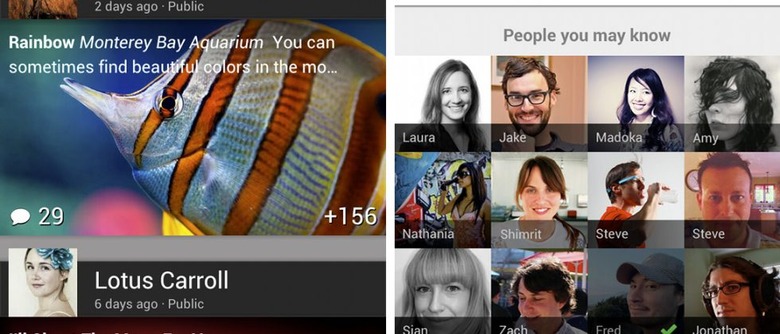 Google has released a new version of Google+ for Android, with v2.6 following the recently updated iPhone version with a slick new UI and better integration with Hangout video chat. The new Android app now allows Google+ users to start a new Hangout while on the move, with a new navigation "ribbon" getting a dedicated "Hangout" button. Tap that, add some friends, and their phones automatically ring to notify them you've made a video chat request.
If your friend misses the call, they'll be able to return it directly from their phone and join a new Hangout that way. Actually ringing phones is also optional, in case you want to be more discrete.
As with the iPhone version, the new Google+ UI puts the emphasis on rich, vivid media. Full-screen photos, animated transitions and easier access to the "+1" control have all been added, along with a slide-in navigation ribbon that makes hopping between sections more streamlined.
It's also now possible to download photos from Google+ and instantly make them into your Android smartphone's wallpaper. If you've made a mistake in a post, you'll now be able to edit it directly from the mobile app too; previously, you'd have to find a desktop browser or just delete the whole thing.
"In all cases we're building for a mobile future, and we're excited about what's ahead" Google said of the update. It's a free download from Google Play.