Google eBookstore Official: iOS & Android Apps, Plus eBook Web Reader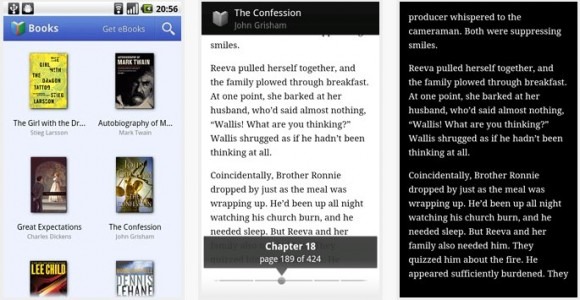 Google has launched its play for the ebook market, in the shape of the new Google eBookstore along with ereader apps for Android and for iOS devices. Offering over 3m titles – made up of new bestsellers and free public-domain ebooks – the Google eBookstore also supports an online eBooks Web Reader, with browser-based access to a cloud-store of content.
As well as Google's eBookstore, there'll be content available from Powell's, Alibris and participating members of the American Booksellers Association. Certain ebooks will support user-selectable fonts, font sizes, day/night reading modes and line spacing, with page sync across devices.
If you have a NOOK or a Sony Reader ereader, you'll be able to transfer across your Google eBookstore purchases too, since they're in Adobe's eBook format. Currently the ebook service is available in the US only, though international readers can still access Google's public-domain catalog.
[via Android Community]