Google Ebola campaign doubles citizen donations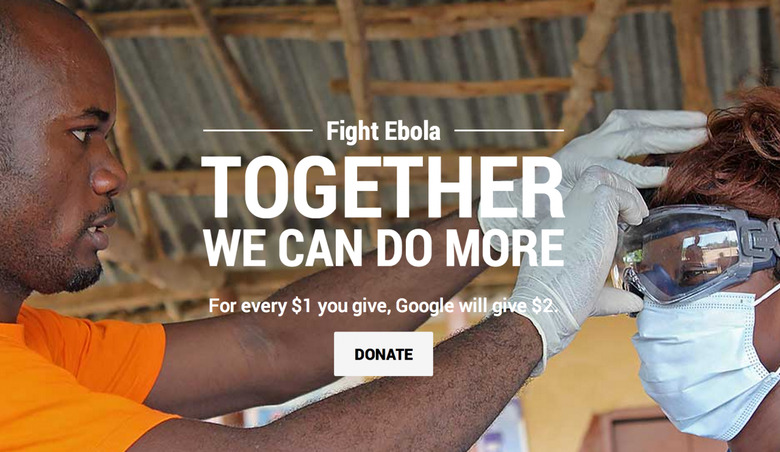 Google has announced that they're bringing more than $10 million in donations to foundations in Africa set to fight Ebola. Google's will give the first $10 million to a variety of nonprofit organizations fighting Ebola and taking care of affected citizens, followed by whatever amount of cash adds up in their donation campaign. For every one dollar donated by the public, Google will donate two. In addition to this donation campaign, Google will be giving $15 million through their family foundation. This comes not long after a similar campaign run by Facebook last week (on into this week, as well.)
Google will be giving $10 million to start with organizations such as the US Fund for UNICEF, Save the Children, Partners in Health, NetHope, Medecins Sans Frontieres, the International Rescue Committee, and InSTEDD. Each of these organizations is a nonprofit aiming to contain this Ebola outbreak and stem further outbreaks in the future.
Google notes that this 2:1 nation campaign will run up until they reach $7.5 million. Together that'll be $32.5 million given by Google to fight Ebola. Not that it's a race, of course!
The donation portal through which Google is doubling donations uses Google Wallet, but they do note that you'll be able to donate through a Network for Good site as well. That portal will also be "double matched" by Google.
Donations are entirely tax deductible, just as all other donation portals have been thus far – so long as they're going to a non-profit, of course.
Google also notes that the Network for Good site will share your name, email address, and donation amount with Google for double-matching purposes only.