Google Earth For iPhone Released; Street View Coming In Firmware 2.2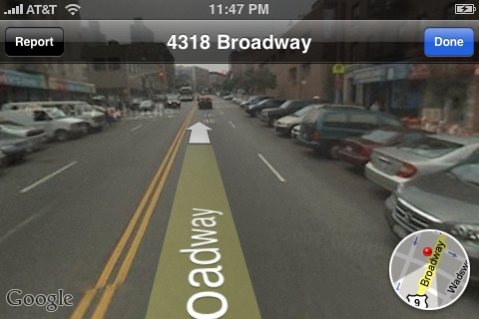 One of the big questions from many iPhone users and developers on the run-up to the T-Mobile G1 was whether, now that Google had their own mobile platform in the shape of Android, would they be quite so keen to code neat apps for other devices.  A case in point was Google Maps Street View, which on the G1 is a compass-driven masterpiece but has been notably absent from Apple's cellphone.  Now iPhoneYap is reporting that Street View functionality, together with mass transit directions, is present in version 2.2 beta 2 of the iPhone firmware, as yet unreleased.  It comes as Google themselves announce a Google Earth app for the iPhone.
Google Earth for iPhone demo video after the cut
Version 2.2 of the iPhone firmware also includes support for line-in audio from accessories, opening up the possibility of voice and music recording apps.  Beta 2 of the software was seeded to iPhone developers on Friday.  More screenshots here.
Google Earth, meanwhile, supports tilting the iPhone to adjust the angle of view (looking up to see the mountain ranges, for instance), browsing of geo-located photos and Wikipedia entries, Google Local Search for businesses and other locations, and the usual "flying" around the globe.  More details here; it's available for free download from the iPhone's Apple AppStore.
[via MacRumors and SlashPhone]