Google Earth 7.1 brings Street View to Android and iOS

If you're in the mood for some up-close-and-personal action with the streets around you – or halfway around the world – this week, you're in luck. Google has updated Google Earth, the app iteration of it, for both iOS and Android, bringing Street View to your hand for smartphones and tablets alike.
This app will bring said update to 100 countries along with new 3D looks at cities like Chicago. What you're seeing below is an iPad vision of Chicago from a 3D perspective – and that's not the only city that has said abilities.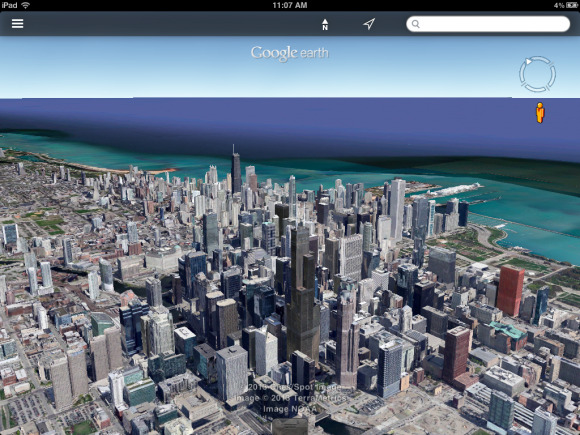 This update to Google Earth brings on additional connections to information from Wikipedia and immersive experiences with Panoramio Photos. This set of updates come just a few weeks after they were issued to the web during Google's developer conference Google I/O 2013 (and Leap Motion integration to boot). Haris Ramic, Google Earth product manager speaks up on the release:
"Have you ever wanted to take a tour of Stonehenge or retrace the steps of Christopher Columbus? With the addition of Street View to Google Earth for mobile devices, you can explore many sites from street level right on your mobile device. And with the new streamlined interface, a simple click of the Earth logo in top left will give you quick access to more information through layers like Panoramio Photos and Wikipedia. Just in case you decide to visit these places yourself, Google Earth's improved directions enable you to visualize step-by-step transit, walking and biking directions in full 3D." – Haris Ramic for Google Earth
This update is available immediately for iOS and Android devices through their respective official app stores. Google devices will be able to work with this app just so long as they've got a version of Android from the past several years, while essentially any iOS device just so long as they're working with iOS 4.3 or later.