Google Doodle celebrates galloping Eadweard Muybridge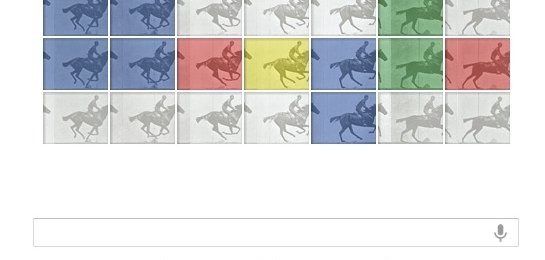 Hit up Google's homepage today and you'll see the company's colorful logo devolved into a section of equine squares, commemorating the 182nd birthday of Eadweard J. Muybridge. Responsible for the zoopraxiscope in 1879, Muybridge used the stop-motion projection display to prove that all four of a horses' hoofs leave the ground while they're running.
In fact, the doodle itself celebrates one of Muybridge's best-known projects, known as "Sallie Gardner at a Gallop." Until that footage, horse experts had believed the animals were completely off the ground when the legs were at full, spread extension.
Muybridge wasn't only interested in how horses moved; the scientist also looked at other animals, including the more lumbering bison. His motion display technology was also used for entertainment, such as stop-motion footage of dancing, with a series of lectures at the Chicago 1893 World's Columbian Exposition recorded as the first commercial movie theater.
His life wasn't all galloping animals, however. Muybridge was also found guilty of "justifiable homicide" after shooting his wife's lover in 1874. The scientist died in 1904.
More information on Muybridge at Wikipedia.