Google Daydream View Review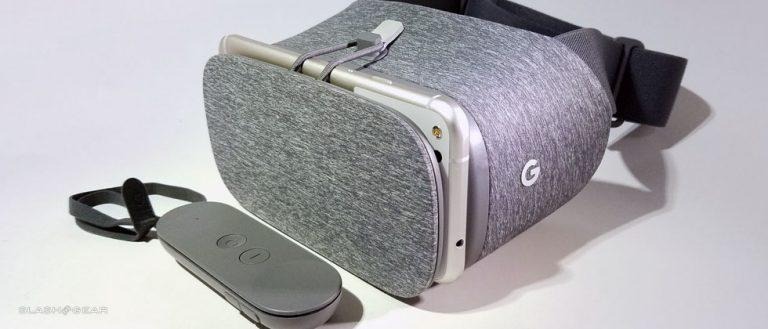 EDITORS' RATING: 8/10
Our Google Daydream View VR headset Review opens the door to a new era in Google's mobile VR game, starting with Pixel. The first phones that work with Daydream are the Google Pixel and the Google Pixel XL, both of which are available at the same sources at the headset. The headset doesn't physically connect to the smartphone, but the smartphone does require a certain set of features in order to work. Is this Google's next big thing, or an unnecessary addition to Google's already decent start in VR with Cardboard?
Hardware Comfort and Usability
The Google Daydream View headset is comfortable to wear and work with. Just as important, it's easy to put on and adjust. When we're using a headset like this that's meant to be mobile, we're expecting to show other people whenever we visit someplace where people haven't seen such a thing before. Ease in adjustment is vital to this situation.
Placing the smartphone in the front of the headset is simple, and making sure it's aligned for both eyepieces is relatively intuitive. There aren't any micro-adjustments to be made like in some alternative headsets. It seems as though Google is resting assured that our IPD (interpupillary distance) is whatever they've measured at the lab. So far so good.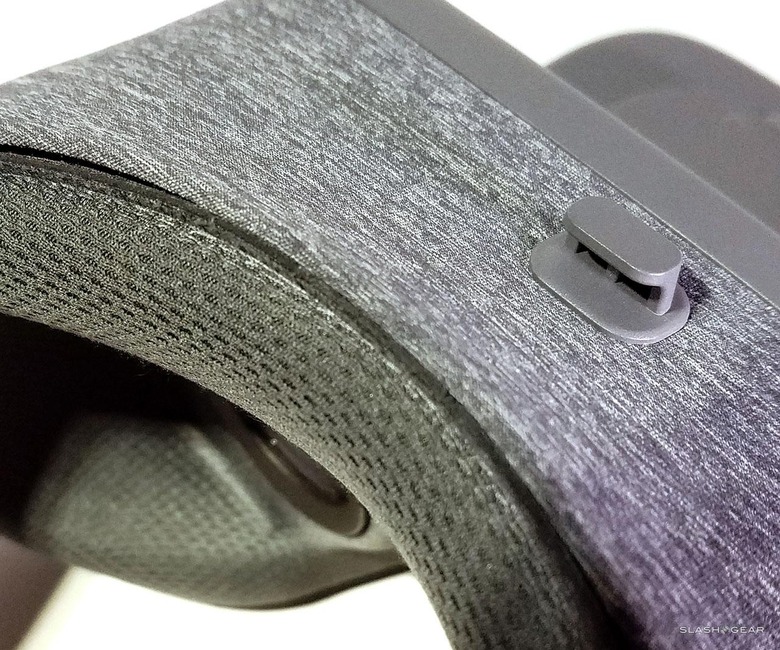 For those with glasses – wearing eyewear with an extra set of lenses like we have here with the Daydream View is never ideal. However, it does seem that Google has become a bit more aware of the situation as there is some give in the area surrounding the eye, making it OK for glasses. It's still not as ideal as it is with the HTC Vive, but it's decent.
The materials the Daydream View is made with are fantastic. This is where most of the value in this headset is – in its professional, natural look and feel. It's comfortable to wear, and extremely light, but it's also made to be worn in the same way a baseball cap is made to be worn.
Material choices here were made to be a mid-point between going all-out for fashion and sticking to the industrial darkness of every higher-priced VR headset for PC or game console. Google has created a wearable device that I don't feel foolish for wearing.
The Daydream controller is so interesting, we did our own teardown. Technically someone outside our normal team did and we used his photos, but still – we went inside this controller. Inside we found a neatly arranged set of hardware components held together with some easy-to-access screws and difficult-to-remove glue.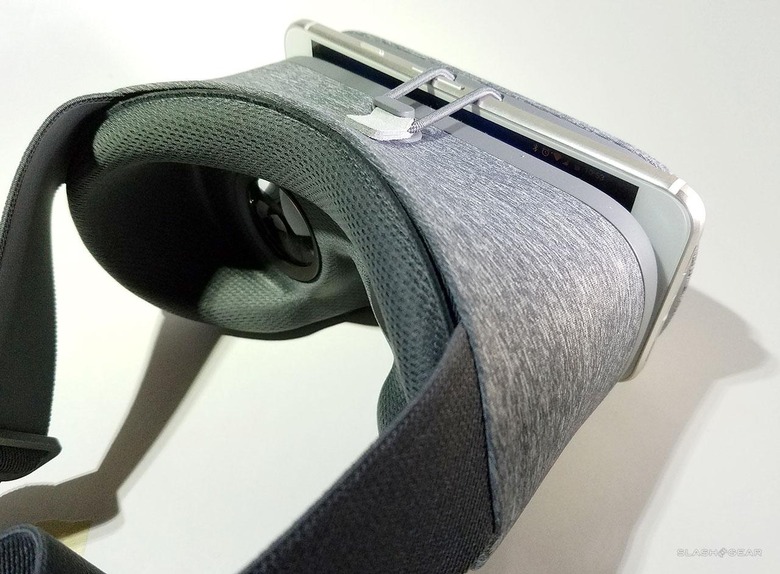 What's to be found in the Daydream controller is more than the sum of its parts. Using this controller feels natural to me, and for the most part it feels as though I've been using this control scheme for a long time. I feel that way because the HTC Vive uses something very similar.
While the HTC Vive tracks its two controllers in 3D space, Daydream's controller sticks in one place all the time, sort of. Using a set of sensors in the controller, the Pixel in the headset is able to turn movements into a tracking scheme in virtual space.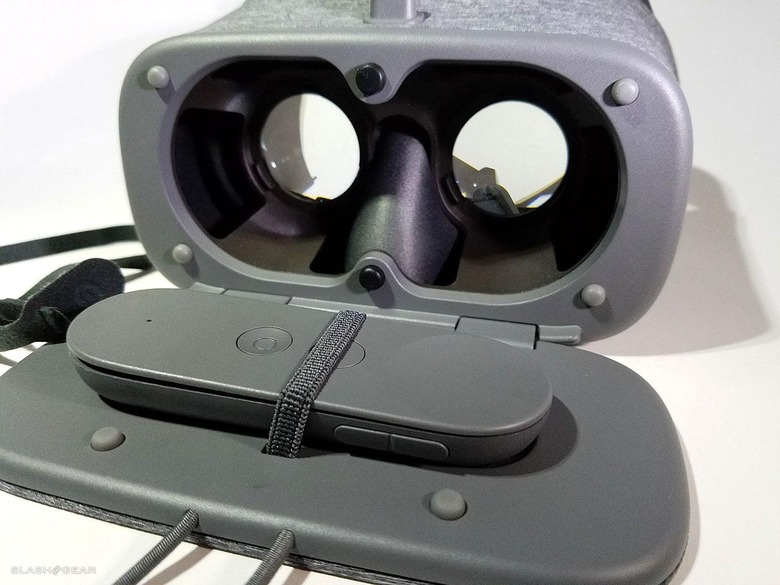 Most of the time this means having a version of the controller floating in space in my line of virtual vision with some sort of rod out in front of it. Like a fishing pole or a selfie stick, this rod is able to grab onto things, tap or click, and move up, down, left, right, and everything in-between. It took me about 5 seconds to figure out how it all worked.
The only issue I've had with the controller is with the touchpad. It seems as though sometimes my touch isn't picked up as quick as it should be, and gestures become lost here and there. It's very likely this has to do with something easily repairable with a software and/or firmware update from Google. In any case it's not something over which I'd return the headset to the store.
Basic Requirements
Google's requirements for smartphones working with Daydream – and this Daydream View headset – are stringent. Stringent for the collection of smartphones out on the market right this minute, that is. These requirements include a resolution at least 1080p @ 60Hz display with 3ms or less latency and 5ms or less persistence. (Quad HD or higher recommended.) They include OpenGL ES 3.2 and Vulkan, too.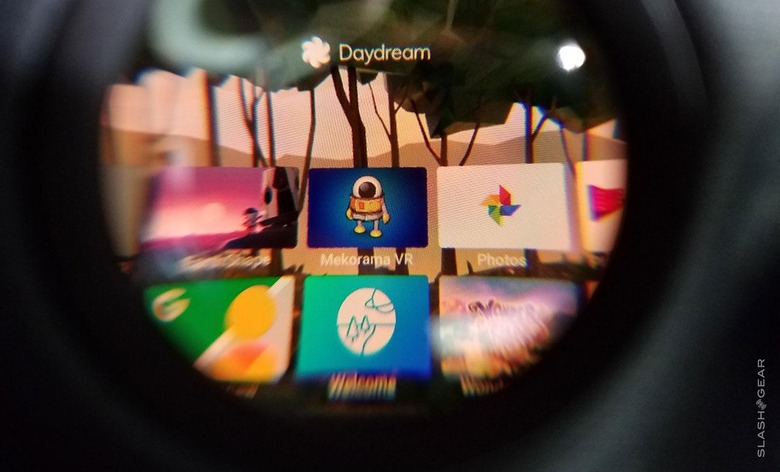 The ability to run 60fps rendering consistently isn't easy, nor is the ability to decode 2 instances of 60fps video simultaneously – but that's what Daydream requires. Displays can be anywhere between 4.7 and 6-inches in size on Daydream-capable smartphones, and they'll need Bluetooth 4.2 LE and temperature sensors capable of reading device surface temperature, too.
All of these features are included with the Google Pixel and Pixel XL, of course. These are requirements for a device wishing to run Daydream with "high performance" – though that's not always necessary. All virtual reality experiences that cost the amount this accessory does should be able to keep its user away from a regular headache – so high performance is best.
Google's Daydream Apps
Google has several of its most popular apps available in VR-mode for Daydream. This is the first time all of these apps have been available with such presentation-ready quality to them. YouTube VR, Google Play Movies, Google Photos, Google Street View, and Google Arts & Culture VR are all available for free, right out the gate.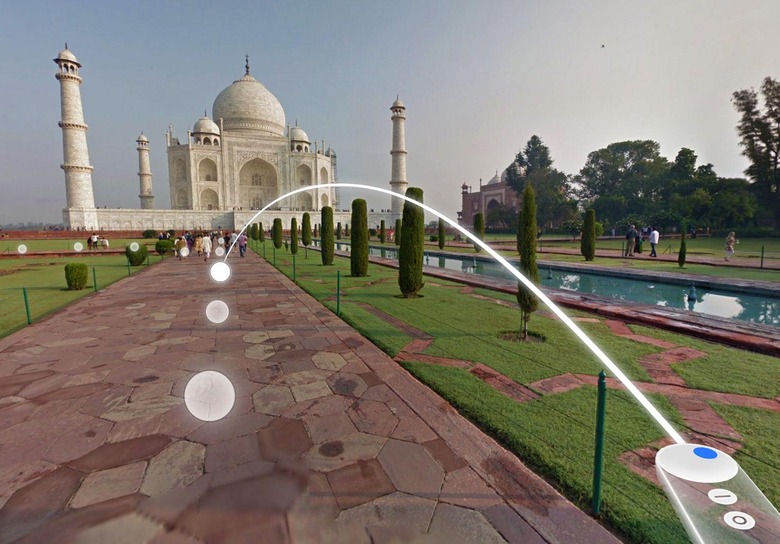 YouTube VR allows the viewing of spherical videos, and Google Play Movies allows viewing movies and TV shows on a flat screen. Google Play Movies app shows a very simple UI in which the user selects titles and plays them. Once played, the selection UI turns to a flat screen while the user sits and watches in a 3D environment.
Unfortunately there is no 3D movie support in Google Play Movies, yet. YouTube VR offers 360 spherical videos and Spatial Audio, which sounds great when plugged in to a pair of compatible headphones. YouTube VR does not yet support any sort of 3D viewing, but does have a theater mode much like Google Play Movies.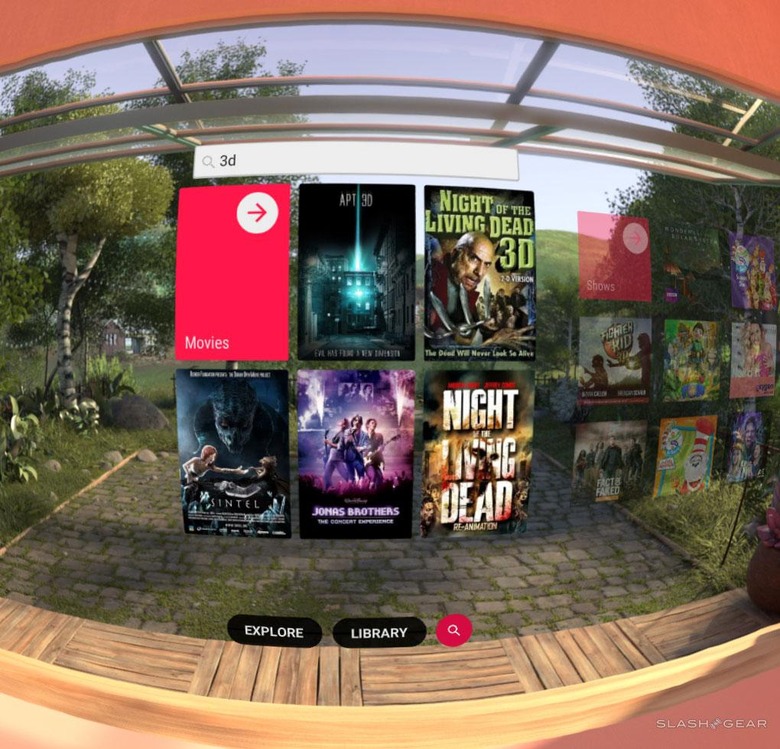 Google Street View has a much-improved interface from the switching back and forth of Cardboard's Street View. Users are able to visit a set of interesting places and the Daydream controller assists in moving them around. It's interesting, but still quite flat. For someone who has never experienced it before, it's quite magical.
Google Arts & Culture has a lot of potential for those looking to learn about important works of art. In the app, Google presents a museum setting and an interface where a collection of major artworks (flat artworks) can be seen. In collaboration with the real museums that hold the rights to these real artworks, Google presents each work of art up close and personal, with a guide who explains the significance of each piece.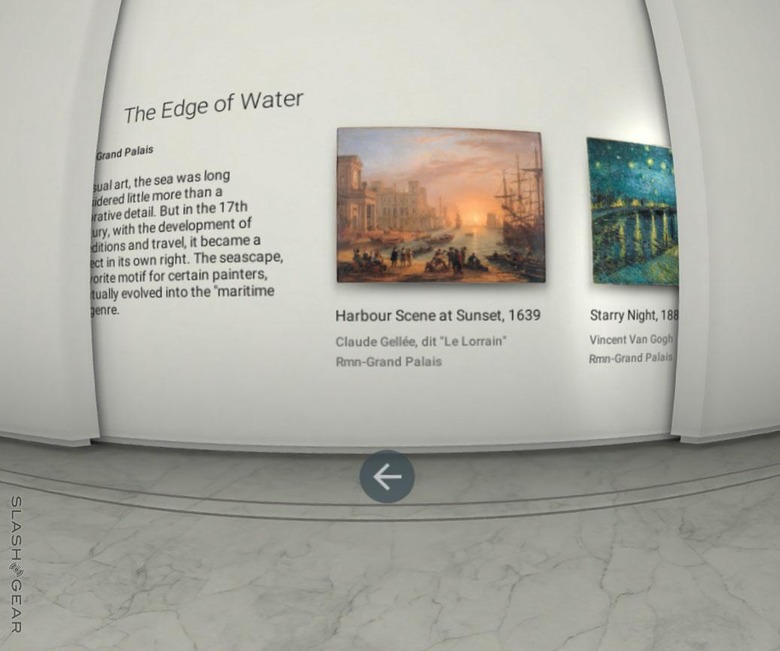 Opening and exploring Google Photos is a real treat for users – like myself – who have captured a collection of spherical and 360-degree panoramic photos. The app concentrates its efforts on these, allowing exploration of these photos as they were meant to be seen. The user interface in this app was simple and intuitive and experiencing the media I'd captured in the past here in this environment was a joy.
Google recommends using the Cardboard Camera app to photograph images that'll be compatible with this Google Photos Daydream app. We recommend you also consider the Ricoh Theta S spherical camera device.
3rd-party Daydream Apps
The non-Google apps available to Daydream at this time are few, but decent. Playing a VR version of Mekorama feels like an obvious step forward for the already-great game, for instance. Using the Daydream controller means pulling, pushing, grabbing and turning each level with what's essentially a long wand. This might not be as relaxing as the original version of the game at first. Once I got the hang of it, Mekorama became a whole new game in VR.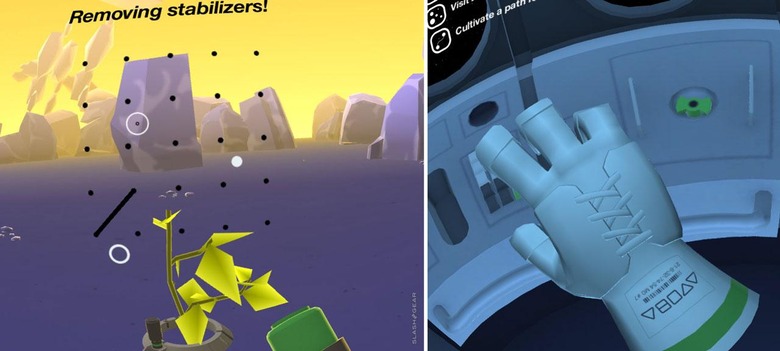 EarthShape gives us a very basic taste of what it'll be like to move through other user interfaces with alternate selection wands – like gloved hands. This game is mostly an exercise in making a flat puzzle game into a VR experience with animations that happen after puzzles are solved. The same could also begin to be said of Wonderglade, but Wonderglade does so much more.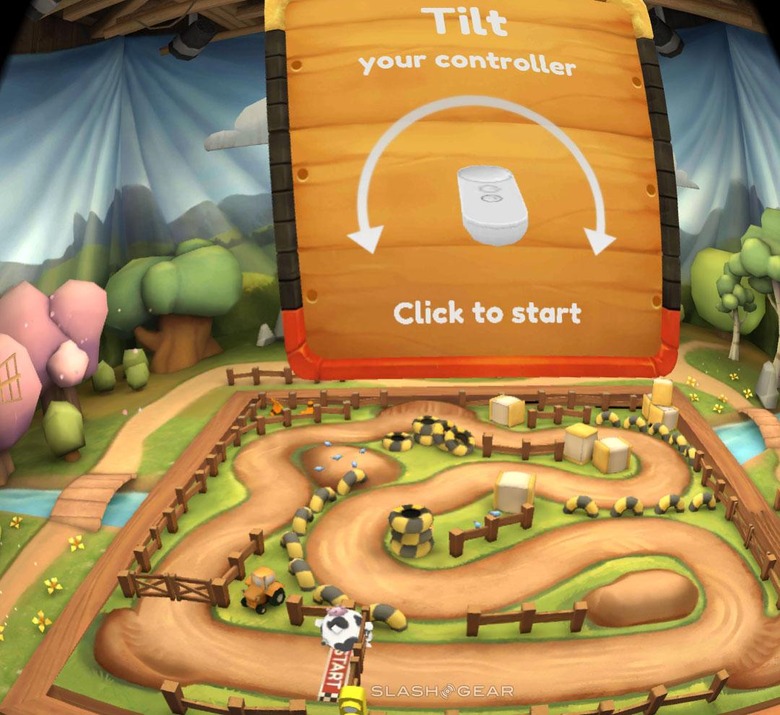 Wonderglade's first puzzle turns the Daydream controller into a game table where a ball is balanced through a racetrack. Star Chart VR uses the controller as a menu, and a display for text, and a laser pointer selection tool. Basically Star Chart VR turns the controller into a smartphone.
There's a lot more in the pipeline for this platform set for release by the end of the year than there is available right this minute. Games like Danger Goat, Action Bowling, and Wands are going to be titles to watch.
Wrap-up
The Google Daydream View headset and controller are two parts of a future I'm glad to be a part of. With it, I'm able to see new environments and play games that defy traditional notions of what computers are able to be for their users. I'm also able to get these things from many modern smartphones working with Google Cardboard.
For a person like myself, it's on Google to convince me that the Daydream View headset is worth the extra price over Cardboard. Especially since Google is now selling their own Google Cardboard headsets for $15 apiece through the same store as the Daydream View headset, it's important that I know the difference. I currently remain unconvinced that it's necessary to fill the spot between Cardboard and Samsung Gear VR.

The Samsung Gear VR costs around $100, and the company has given loads of them away with purchase of Galaxy smartphone over the past couple of years. The Gear VR with a Samsung smartphone presents a significantly more comfortable visual experience than Daydream does with a Pixel. I wish the Gear VR had the Daydream controller to work with, but alas, it does not.
At this time I do not feel that the Daydream View headset is worth the full $70 it costs, not when there's a $15 (or free) Google Cardboard headset also available. However, I do feel that improvements that need to be made all rest within the software of the Pixel and the Daydream controller. Both the Pixel and the Daydream controller can be updated and upgraded by Google remotely, so there's lots of potential brewing here – lots indeed.