Google Classroom app now available for Android, iOS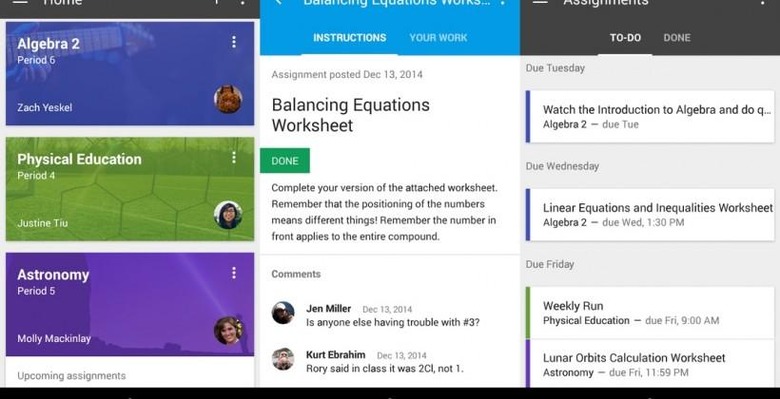 For a long time, teachers tried to manage smartphone usage in class, trying their best to make sure kids weren't screwing around instead of learning. Now, educators have a reason to let kids stare at screens, as the Google Classroom app is now available on the Play Store. The app will let students and teachers stay on track, digitally. Homework assignments, future work deadlines, and assignment collection are all part of the app's feature list. The app is free for anyone with a Google Apps for Education account.
The app is designed to work with Google Classroom, which launched in an official capacity late last year. The mobile app houses all the same features, it just packs it into a smaller, more Material Design footprint.
The idea is to bridge the technology gap between students and teachers, which will in turn aide everyone in communication and education. Google Classroom works seamlessly with Google's other cloud-based offerings like Drive, making it a paperless existence, should educators want it to be.
Google Classroom for Android also allows teachers to make announcements, and they can follow student's progression through the lesson plan in in real-time. Students can track what's due on their assignments page, and submit their work electronically.
As a platform, Google Classroom is rounding into shape nicely. Between Chromebooks in the classroom and now a robust Android app, Google may just be edging Apple out of the classroom.
Update: It's also available for iOS!
Source: Play Store