Google: Chromecast Local Streaming Is Coming (But You Can't Have It Yet)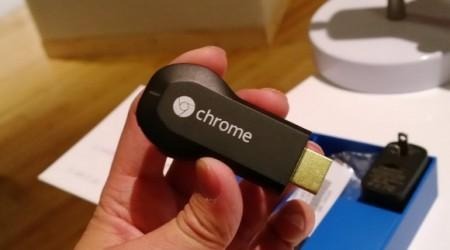 Google has responded to claims that it purposefully broke local streaming on the Chromecast dongle, hinting that the unofficial functionality was an accidental casualty as it works toward an official developer SDK. Concerns that Google was locking down the Chromecast streamer came after coder Koushik Dutta found his AllCast streaming service for the dongle was broken following a recent automatic update; however, a Google spokesperson told The Verge, in actual fact it's simply too early to give developers free-reign over the low-cost accessory.
The concern had been that Google was locking down Chromecast much in the way that Apple has controls its Apple TV. That way, only a select group of official apps would run on the device – out of the box including Pandora, Netflix, and YouTube – although basic streaming from the Chrome browser is supported.
Unsurprisingly, that idea didn't go down well among Android enthusiasts, who are used to a greater degree of flexibility from Google's platform. However, according to a company spokesperson, it's time not inclination that's to blame.
"We're excited to bring more content to Chromecast and would like to support all types of apps, including those for local content. It's still early days for the Google Cast SDK, which we just released in developer preview for early development and testing only. We expect that the SDK will continue to change before we launch out of developer preview, and want to provide a great experience for users and developers before making the SDK and additional apps more broadly available" Google spokesperson
Exactly when Google might release the promised SDK, not to mention more apps, is unclear. Sales of the Chromecast began in late July, but stores – including Google's own Play market – have struggled to keep the hardware in stock as demand outstripped supply.
Unfortunately, the update process is fully automatic, taking place when the Chromecast is power-cycled, and as such there's no official way to stick with the old firmware and maintain the local streaming support.
It's also unclear, given Google's phrasing, whether the Chromecast AllCast support was purposefully disabled or an inadvertent victim of the search giant's ongoing tinkering. Koush, the developer behind the hack, claims the former is the case, pointing to specific code added in the latest update with the apparent express purpose to bypass anything but the official streaming options.