Google Assistant update takes SHIELD TV out a whole new door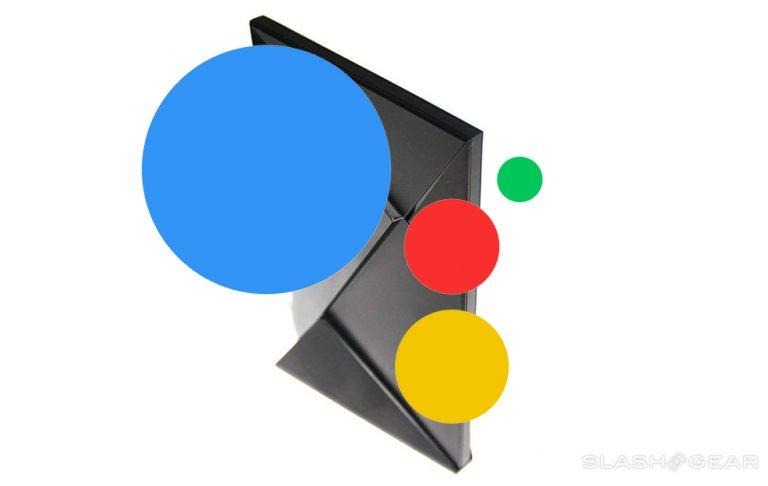 Today NVIDIA SHIELD's latest update brought with it Google Assistant in full effect. The results are much like we saw and experienced earlier this year at CES 2017. This means "OK Google" Google Assistant support – along with NVIDIA's implementation of the full-on latest version of Google's vision of the ideal smart TV environment using Android. This is also the "first-ever hands-free access to an Assistant for TV" – so says NVIDIA.
Ask to open apps, play songs, access media
Before now, saying OK Google to the NVIDIA SHIELD didn't do a whole lot unless you'd already selected the Google Search button at the head of the home screen. Opening apps through this screen worked, basic app launching worked, and searching worked. Visual Cards (see below) also appeared, but not in any app, only appearing on the Google Search screen.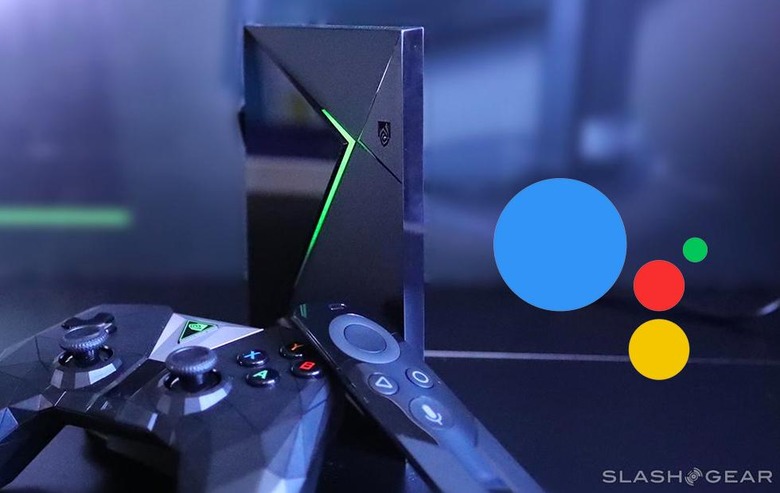 With this update, Google Assistant spreads its wings out and around the entire Android TV experience. Now whenever the user wishes, "OK Google" summons the beast, and the power of all media control and the internet's boundless wealth of useless information is at your command!
No buttons needed
As it is with my Pixel phone, so too does the SHIELD controller awaken the Google Assistant when I say "OK Google" within range of its microphones. The microphones in the newest SHIELD TV Remote and Game Controller are extremely sensitive. I've never had trouble getting them to hear me – it's once they start listening for commands that can get a bit of mixed results.
SEE THIS: NVIDIA SHIELD TV Review (Gen 2)
Especially when you've got a party going on in your apartment – or you have a toddler or two who like to talk to Google. LUCKY FOR YOU there's a way to turn off the "say OK Google anytime" feature on the SHIELD if you do so wish. Simply move down to the microphone icon at the bottom of the SHIELD's home screen and make with the switches.
Of note – the SHIELD Controller (gaming controller) supports hands-free Google Assistant activation, while the SHIELD Remote does not. The SHIELD Remote (simple TV controller device) requires that its microphone button be pressed before the user begins saying commands or asking Google for information.
Visual Cards
Google Assistant on TV provides a new way to view Google's responses to queries – this with expanded information where applicable. This intelligent TV overlay system is optimized for this size and format, and is not presented in the same way on any other platform. This system is ideal for finding information about whatever actor is in the movie you're watching – whether or not you know their name offhand.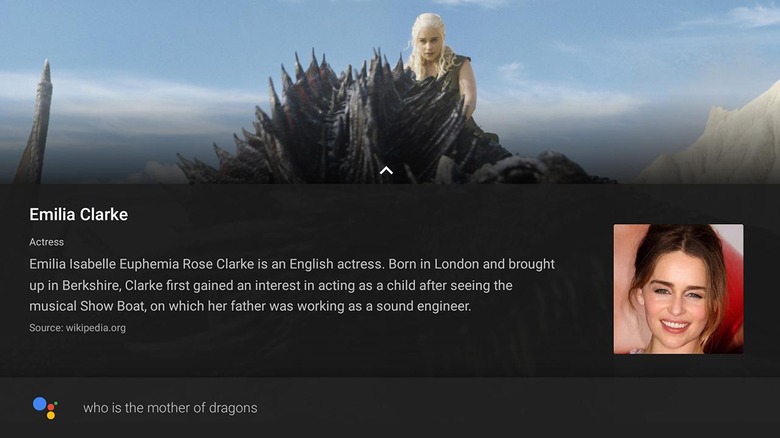 Search Nesting
Nested searches are enabled with this update, including such gems as "OK Google, show me the top album of the year" – response from Google – followed by "from the year 1978." Google should give you a response like "Some Girls" by The Rolling Stones, or if Google really wants to get deep, it'll suggest "Q: Are We Not Men? A: We Are Devo!"
Samsung SmartThings time is soon
This update makes way for connectivity with Samsung SmartThings smart home devices, too. Release of all abilities requires the release of the Samsung SmartThings Link as well as the official Samsung SmartThings app. Both of these will be "launched soon" according to NVIDIA. Once released, the SHIELD will work with "hundreds of smart devices" throughout the user's smart home – with ecosystems like Z-wave and ZigBee.
Voice First Wrap-up
This update turns the SHIELD TV (aka NVIDIA SHIELD Android TV) into a smart hub for all things Google Assistant-connected. That in turn enables a whole lot of other connections – like using IFTTT to connect saying "OK Google, Lake Minnetonka" to a purple rain of color in your living room VIA Nanoleaf Aurora lighting panels.
ICYMI: SHIELD TV Gen 2 hands-on at CES 2017
This is like having a Google Home device with a display – where the display is my high definition television. There's not a lot left wanting in this equation when I'm looking for a central control point for all smart home devices – all with voice control.
Does this update make the SHIELD TV a real Apple TV killer? Not so much. Not because Apple TV is better, but because SHIELD TV, in my opinion, is in a completely different realm from Apple TV. They might cost the same, and they might both run Netflix (as well as most/all other important TV-based apps), but for everyone outside of the strictly-Apple-only hardware ecosystem, SHIELD TV is best.
NVIDIA's SHIELD TV device is the best smart tv device in the world today. That's both within and without the Android TV ecosystem, just as much and more now here in 2017 than back in 2015. As overlord in the realm of smart television products, SHIELD TV's stood alone for the past two years straight. Now with Google Assistant inside, SHIELD TV becomes all the better.