Goldmund U-32 Processor offers screening rooms unlimited audio channels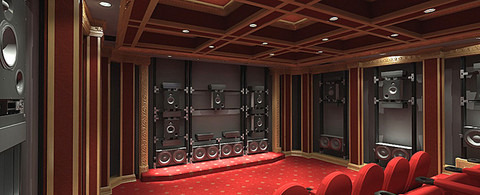 Scarily high-end A/V manufacturer Goldmund have announced a new luxury processor capable of extending to an infinite number of channels.  Intended for private screening and home cinema rooms, with seating for up to fifty viewers, the Goldmund U-32 Processor contains digital signal processors the company claims are each fifty times as powerful as their predecessors.  The system – together with Goldmund's U-Telos amplifiers – means that each viewer can be served by a number of speakers, each non-audible separately, but when combined capable of up to 130dB at all frequencies.
While the company certainly isn't one for budget buyers – their Blu-ray deck, for instance, costs a cool $17k – in actual fact it could be cheaper to install such a large-scale media room taking advantage of the U-32.  Rather than use a smaller number of large, expensive speakers, system builders can now opt for a greater number of smaller, cheaper speakers each with their own, narrower frequency range.
Price doesn't seem particularly forthcoming from Goldmund, and nor do photos of the U-32.  Best to assume this is very much a case of "price on application" and "if you need to ask, you likely can't afford it".
Press Release
GOLDMUND INTRODUCES NEW PROCESSOR CAPABLE OF EXTENDING TO AN INFINITE NUMBER OF CHANNELS

The New Goldmund U-32 Processor Makes a Goldmund Media Room Fit for 50 a Reality

Los Angeles, July 21, 2008: Goldmund, makers of the world's most extravagant and technologically advanced systems for audio-video purists, announced today the creation of a new processor, the Goldmund U-32, which is capable of extending to an infinite number of discrete channels.

Goldmund, the same company that took the groundbreaking approach of using multi-channel processors with up to 32 channels, an innovation required to create the ultimate home theater experience, the Goldmund Media Room, have delivered a processor capable of reaching an unlimited number of channels. The Goldmund U-32 was created to meet the demands of Goldmund clients looking to build larger media rooms that can seat up to 50 guests.

The new Goldmund U-32 Processor includes a set of high-power digital signal processors (DSP) capable of more than 50 times the strength of its predecessors. When paired with the recently announced U-Telos family of amplifiers, which is capable of achieving an ideal crossover for the associated speaker with full time delay correction and a signal measurement feature to control the protection of each driver it operates, the Goldmund U-32 can reach an infinite number of discreet channels, which is necessary to properly reproduce extreme surround-sound accuracy in a very large Goldmund Media Room. The U-32 is ideal for bringing the Goldmund Media Room technology into commercial screening rooms, hotels and resort settings.

Goldmund Media Rooms using the new Goldmund U-32 Processor will provide perfect seamless surround sound by enveloping each individual user with a higher than usual number of speakers, each being smaller and less expensive, each non-audible separately, but together capable of providing each user with sound levels up to 130dB at all frequencies.

"Our clients have increasingly been requesting that we go bigger than Goldmund has ever gone before," said Michel Reverchon, president of Goldmund. "Now with the new Goldmund U-32 processor, there is unlimited potential as to how far we can take the perfection of the Goldmund Media Room."

Additional information can be accessed by visiting the Goldmund website at www.goldmund.com. The Goldmund Media Room in Los Angeles is available for select demonstrations by appointment.

About Goldmund

Based in Geneva, Goldmund has set the standard for ultra-luxury audiophiles worldwide. Founded in 1978, Goldmund's exceptional product design is matched by its industry-leading commitment to fundamental audio performance research. Employing a team of electro-acoustic engineering experts, Goldmund leads the industry in fundamental research and has developed and introduced industry firsts including home wireless music distribution, DVI output, mechanical grounding and thermal grounding. At the forefront of the international luxury audio/video marketplace, Goldmund recently introduced the "Reference II" turntable, priced at $300,000. The "Reference II," the world's most expensive turntable for the world's most demanding collectors of masterpieces, is also the most scientifically accurate, pushing the limits of physics and demonstrating the most advanced levels of technology. In 2007, Goldmund introduced the Goldmund Media Room, a revolutionary media room solution. For more information visit Goldmund online at www.goldmund.com.