Gold Razer Phone special edition revealed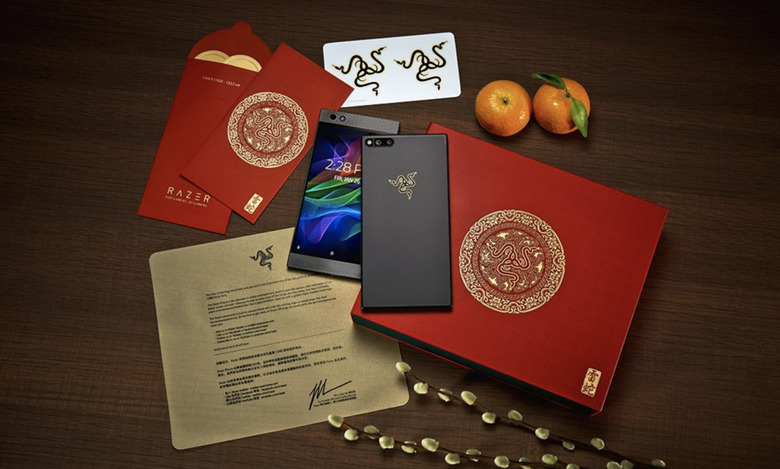 A special edition version of the Razer Phone is out for the Year of the Dog. The company announced that they'd release a limited run of this 2018 Gold Edition Razer Phone, and it'll be ready to roll for "the New Year tradition" in a special edition box, too. This version of the Razer Phone looks largely the same as its predecessor, but this one has a golden triple-headed snake logo. So very gold, but only in one place – on the snakes.
This version of the phone comes with a red-sleeved box complete with gold foiling. This version of the phone is the same on the inside – it's only different on the outside. Though if you want some Year of the Dog wallpapers, chances are good Razer will have some ready sooner rather than later. Over at razerzone dot com slash downloads they've got more wallpapers than you can shake a stick at.
SEE: Our big fat Razer Phone Review
While the image here has a couple of oranges and a lovely leaf-filled branch, it's unlikely we'll be included in the box. But that box is amazing. Just as amazing as the original, which is in and of itself a work of design art.
Sales of this device will begin on February 2nd, 2018, immediately if not soon. This smartphone's pricing is just one penny under $700, not unlike the standard version of the device. This device will be online as well as at 3 Hong Kong carrier locations.
For more information on this device, have a peek at our full review. We've got the Razer Phone itself, and a look at the device that'll make it into a laptop too. This machine is one of the most unique smartphones to come from any manufacturer in several years. It's interesting and good – and that you can quote me on.