One massive amount of odd accessories are available in the wild today – so many that a company like the one making GOkey's biggest goal is to reduce the amount of devices you need. GOkey is an accessory that has several functions, all inside a package that's small enough to fit on your keychain.
With GOkey, you'll be able to charge your smartphone. There are two different versions of this accessory – one made for iPhone 5/5s/5c, the other made for the microUSB-using smartphones of the world: Android and Windows Phone, for example. This battery will be good for emergencies only, as its just 400mAh (enough for a couple of hours of phone use).
This device is also able to connect your smartphone to your computer using the same cord as you'd use to connect to charge GOkey and your phone. The larger tip on GOkey is a full-sized USB for plugging in to your computer. Inside GOkey is an amount of storage for media. You can choose from 8, 16, or 32GB internal storage sizes.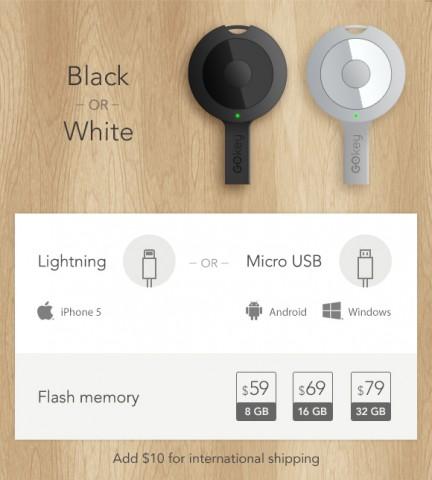 GOkey's Bluetooth connection allows you to locate your phone with sound. You'll be able to press a button on GOkey to make your phone make a noise if you've lost it – if you've lost GOkey (or the keys GOkey is attached to) you can activate the speaker on GOkey for a sound as well.
Bluetooth also allows you to use GOkey as a remote control. With your camera app open you can take a photo with one click or a video with two. One click plays a song, two clicks skips a song. One click answers a call, two clicks reject a call.
This device is on Indiegogo right this minute with a few days left for raising cash. At the moment they've got over $800k raised for just a $40k goal – over 2,000% of their asking cash. GOkey will eventually cost $79, but through their crowdfunding bit here, you'll be able to nab one for $69 for the next few days.