GOG kickstarts Big Fall Sale with free Mount & Blade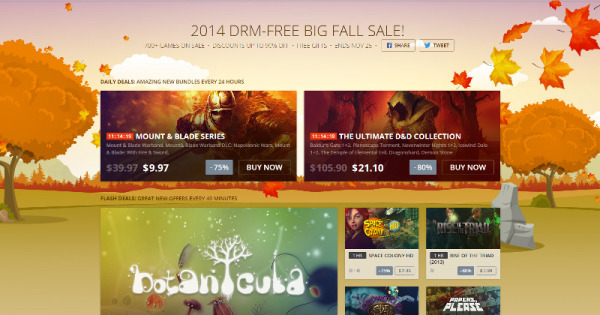 Yep, it's that time of year again when game publishers and distributors will all be vying for your hard earned money (or that of your parents). Kicking off the season is GOG, who no longer just offers "old games". For the next couple of days all the way up to November 25, the digital game distributor known and loved for its DRM-free copies will be filling your screens with loads of deals every hour and every day. Starting with a free copy of Mount & Blade in the first 48 hours of the campaign.
Mount & Blade become quite popular because of its almost realistic take on medieval combat, especially on horseback. Those who are tired of the usual fantasy tropes will be happy to know there are no elves or dragons here. Instead, the game exploits historical elements of feudalism, factions, and combat to draw players into this open world with a very minimal plot. If this type of game is your thing (or if you just want to expand your library), you can grab the first game in the series for free. Or you can also grab the whole collection at a huge 75 percent discount.
This Big Fall Sale will be filled with bundles at discounted prices, starting with GOG's neverending offering of a Dungeons & Dragons Bundle made up of 10 classic titles. Such bundles, however, last only 24 hours long before giving way to yet another collection at substantially reduced prices. But to keep you on your toes all the time, and to keep you visiting their website, GOG also flash sales to entice you every 40 minutes.

But wait, there's more! GOG also has a stamp collection thing running. Every day, you are entitled to one stamp and once you've completed 7, you get a free copy of The Witcher 2, the sequel to the critically acclaimed RPG that also happens to be the first, and so far only, in the series to be available for Linux. Also coming with the game is a free copy of the Director's Cut of The Gamers film. And yes, in case you've missed it, GOG is now also selling DRM-free game-oriented movies.
SOURCE: GOG