Goal Zero Nomad Folio joins OtterBox uniVERSE case system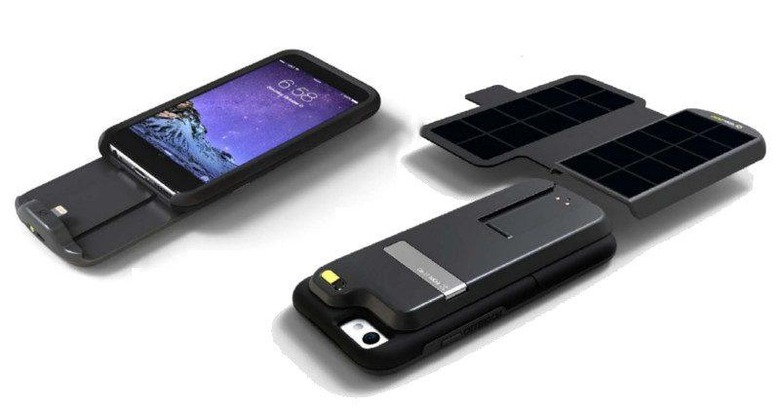 Last May, OtterBox, a leader in rugged smartphone cases, introduced a rather intriguing idea. A rugged iPhone case, of course, that can be extended with different sorts of attachments. A pseudo modular smartphone system, if you will. One of those to first jump into that OtterBox uniVERSE was Goal Zero with its Slide Battery. And now, in addition to finally launching that attachment, it is adding yet another member to the team, the Nomad Folio cover that adds a dash of renewable solar energy to your portable battery needs.
Goal Zero is a company that specializes in providing portable battery solutions for different kinds of electroncis, from refrigerators to smartphones. A lot of those revolve around the use of renewable energy, so something like the Nomad Folio Solar Panel is a no-brainer. In addition to adding some tough looking cover around your smartphone, it also acts as a source of solar enery, not for the iPhone itself, however, but for the Goal Zero Slide Battery.
Yes, that Slide Battery that was announced way back when the OtterBox uniVERSE case system was first revealed. That battery is now launching as well, which is perfect timing for this perfect tandem. The Slide Battery itself, which also has a kickstand, by the way, easily slips on and off the uniVERSE case to give the iPhone some added juice.
Together, however, the Slide Battery and Nomad Folio make a truly portable power pack. The Nomad Folio slips on top of the Slide Battery. When both are attached to the OtterBox case, the folio protects the iPhone. It also, however, provides solar panels for charging the Slide Battery itself, which can slide off and stand under the sun while you keep on using your iPhone as normal.
The Goal Zero Nomad Folio itself won't be arriving until the fourth quarter of this year. When that happens, it will sell for $39.99 for the iPhone 6/6s and $49.99 for the iPhone 6 Plus/6s Plus. But those waiting for the Goal Zero Slide Battery need not wait any longer. It is now available, both from goalzero.com and otterbox.com, for $54.99 for the iPhone 6/6s and $59.99 for the iPhone 6 Plus/6s Plus.