GMC Hummer EV official: All-electric 1,000hp truck takes on Cybertruck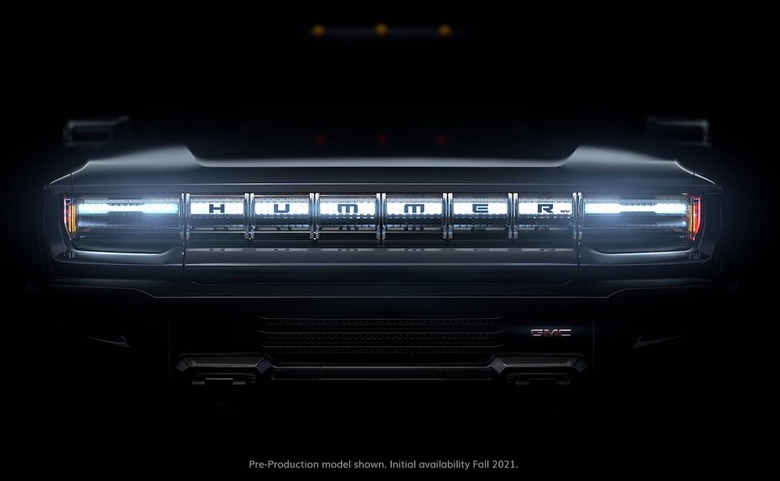 The Hummer is coming back, but this is not the gas-guzzling truck Arnold Schwarzenegger might remember: instead, the GMC Hummer EV will be all-electric. Promising a "Quiet Revolution," the new GMC truck will pair the classic name with an all-new electric drivetrain that will have enough power to take on the Tesla Cybertruck.
Indeed, GMC is promising performance numbers we've come to expect from supercars, not eco-friendly vehicles from General Motors' stable like the Chevrolet Bolt EV. According to GMC, the Hummer EV truck will have a whopping 1,000 horsepower.
Torque, meanwhile, will come in at 11,500 lb-ft, GMC says. [Edit: it's worth noting that the assumption is that this is torque at the axle, so not a direct comparison with the figures that most automakers are claiming.] That'll be enough to propel the GMC Hummer EV from 0 to 60 mph in just 3 seconds. It seems more than sufficient to warrant GMC's description of the vehicle as an "all-electric super truck."
While being teased today with this new grille image – suggesting the Hummer EV will pick up on the current trend for illuminated fascias, as well as a nod to the classic chromed bar aesthetic of the original trucks – we'll have to wait until May 20, 2020 for the full reveal. GMC will be teasing the new electric truck with its Super Bowl LIV commercial, airing on February 2nd.
"The spot highlights the anticipated performance of GMC's all-electric super truck, which will generate remarkable metrics in terms of horsepower, torque and acceleration while providing incredible on- and off-road capability," the automaker promises. "All of this is combined with the vastly reduced noise and zero emissions inherent in the operation of an electric vehicle."
Production of the Hummer EV will take place in Michigan, at the Detroit Hamtramck assembly plant. GM announced earlier this week that it would pump a multi-billion investment into the facility, turning it into a hub for electrified vehicles. The company will also build the first Cadillac EV, another SUV, there.
As you might imaging, we still have plenty of questions about this new Hummer EV. GMC isn't talking about battery size at this point, nor range. We don't know how fast it will charge, nor whether it will be offered solely with an SUV body or as a pickup, too.
What does seem clear is that the traditional automakers are no longer content to allow Tesla to have all the fun when it comes to performance electric. Elon Musk made plenty of bold claims with the Cybertruck, overshadowed only by the EV pickups' controversial sci-fi appearance. Now, it seems the Cybertruck will have some Detroit competition.