Gmail updated with Material Design, support for any email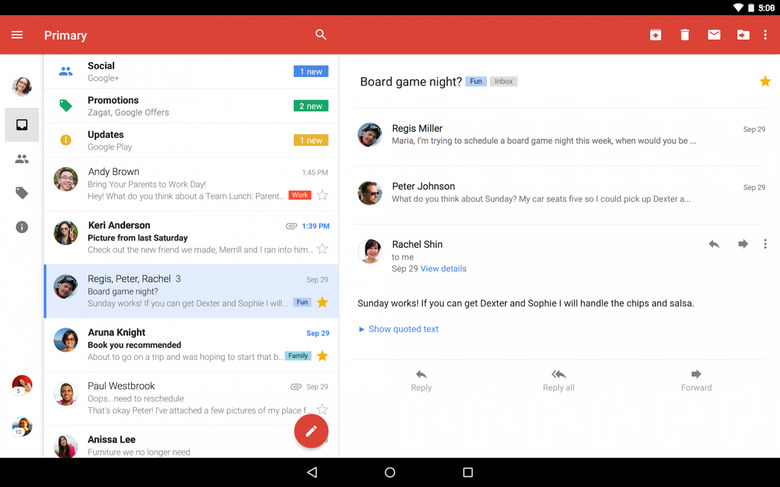 Gmail remains a standard for email, but a new app takes it well beyond the confines of Google. With the latest iteration of Gmail, we can now add other emails we might have from outside sources into the app, making it more an email service than a Gmail service. A new look keeps pace with Google's other recent offerings, too, bringing in some core functionality and Material Design cues. It's a much needed update, and lines Gmail up for a lot of Lollipop love.
If you're looking for a comparison, look no further than Inbox, Google's offshoot of Gmail. Aesthetically, the two are similar, and both are email services. Gmail acts a bit more Calendar in some respects, though, perhaps distancing Inbox from Google's "regular" stuff.
Gmail now has the familiar red "reply/write" button that, at least in one way or another, makes a home at the bottom-right of most Google apps. The little button starts an email anew, or responds in-line to an existing one.
You'll still get the labels you might have grown to love in Gmail, but Google is also opening the app up to any other email you might have. All you need is some POP/IMAP know-how, and you're on your way!
Google says the update is ready for all Android 4.0 and better devices, and will roll out over the next few days.
Source: Google