Google Calendar 5.0 brings context to your schedule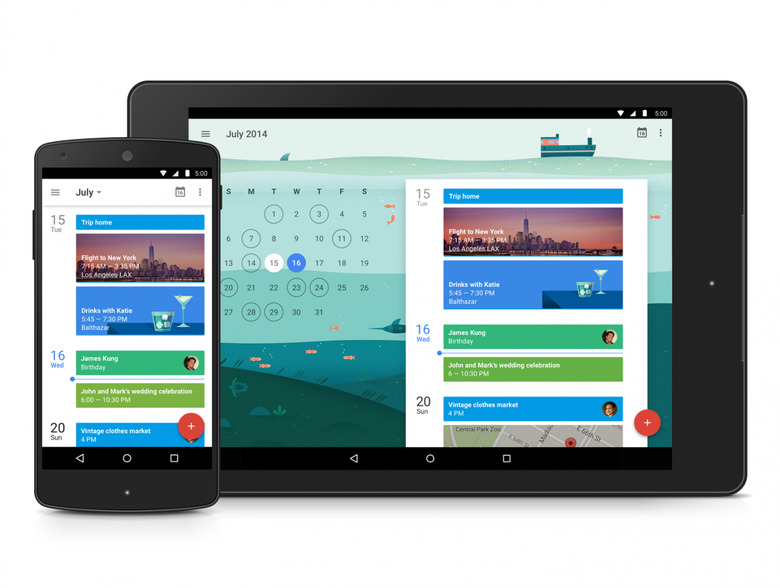 If you liked the idea of Google Inbox, an app which makes a bit more contextual sense of your messages than normal email, you're probably going to love the new Google Calendar. Announced today, Calendar aims to do much of the same things Inbox does in making a bit of sense in what can be a cluttered world. Events can be added automatically, and Calendar will also offer up suggestions for certain tasks. For larger devices, a new view could have you using Calendar a lot more, too.
Now, if you get an event via Gmail, it will automatically populate in your calendar. Even some important details like flight numbers or confirmation codes will be noted in the event, too. If things change (Google's example is a flight that's been delayed), any information in the Calendar app updates in real-time.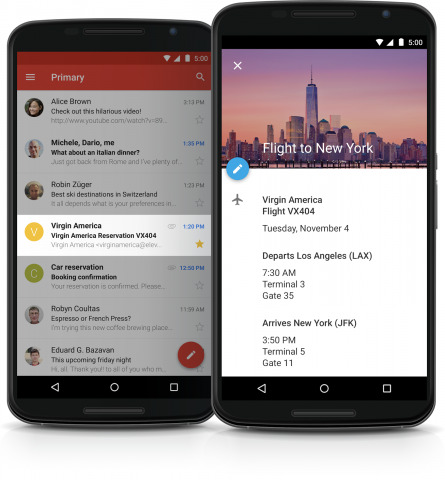 If you don;'t get an email invite to something, Google is making the chore of manually adding an event much easier. A feature called Assist will take the people you see most, as well as the places you frequently visit, and suggest them as you're typing. Calendar even knows who you might have a recurring event with, so if you routinely have Sunday brunch with Mom, Calendar will suggest you have the mid-morning meal with Mom at your usual spot as you enter it.
A new Schedule view just plain makes Calendar gorgeous. The card-based format will pop with views of the city scape or illustrations for activities. On a tablet, a scrolling list of events along with a month view make planning and finding time for new adventures much easier.
For iPhone and iPad users, Google is announcing an iOS version is incoming. They don't say when, but Google Calendar will be coming to your iOS device soon. The app will be available via Google Play in the coming weeks, and will run on all devices running Android 4.1 and better. Until it rolls out, Google is limiting it to devices with Lollipop.
Source: Google