Gmail adds live Google+ integration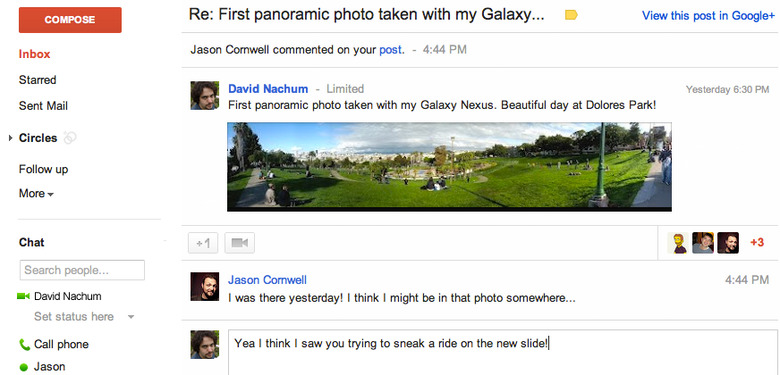 If you live in Google's world of email and social networking, a couple of your most-used websites just got a lot closer. Today Google introduced new Google+ features into the web client for Gmail, allowing users of both services to update comments and status messages as soon as they're posted. While Google+ previously allowed you to respond to comments via email, now Gmail will show updates in real time, allowing users to comment, share and +1 items immediately.
It's the sort of integration that only a company with so many diverse platforms can offer, and something that the likes of Facebook and Twitter can't easily match once users are outside their respective walled gardens. Currently the feature is only being activated on the web version of Gmail – the Android apps and any email accounts connected via POP or IMAP won't have access to the feature. It's likely that Google will update the Android app eventually, at least for those on Ice Cream Sandwich or later.
Currently the Google+ integration is being released in stages, with all of Gmail's millions of users set to get the update over the next week. Older Google+ features like adding people to your Circles and the People widget will still function for those who use them. If you haven't associated your Gmail account with a Google+ profile, you naturally won't be able to see the expanded functionality.
[via 9to5Google]