Globalstar gets compact-tastic with new satellite phone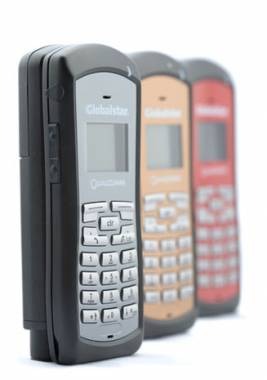 I was only talking yesterday about how future forecasters had over-enthusiastic ideas about how the world of tomorrow would communicate – video phones figure highly, as do satellite phones.  Now if the former haven't taken off primarily because we'd rather be free to pick our nose while screaming at telemarketers, the slow-growth of the latter has been down to more mundane reasons: the insane expense of calls and the insane ugliness of available handsets.  In a world of KRZRs and Chocolates, carrying a brick with a flap-out satellite dish doesn't make you cool, it just makes you look like a bit of a house that has fallen off.  Globalstar, though, has had enough of the other wireless carriers sniggering behind their hands, and have introduced the GSP-1700.
Okay, so it's still not going to get confused for part of Samsung's 'Ultra' series, but for satellite technology we're talking impressive stuff here, people.  At 7.1 ounces (203 grams) it's almost half the weight of existing phones, crowning it the smallest, lightest handset for use on a global satellite network.  You can tell that to your friends when their nimble Nokia is playing the "I'm a lump of useless plastic" game as you revel in coverage of more than 120 countries across six continents.
To be honest, you'd have to be pretty damn specialist to need a satellite phone, and if you are then you'll know whether you need it to be relatively small or not.  The GSP-1700 gives four hours talk-time and 36 hours standby, so while you can be many places in the world with it, just hope that it doesn't take you more than a day and half to get back to an AC socket.
Globalstar [via CRAVE]