GlassUp AR Glasses Hands-On: Google Glass Gets Competition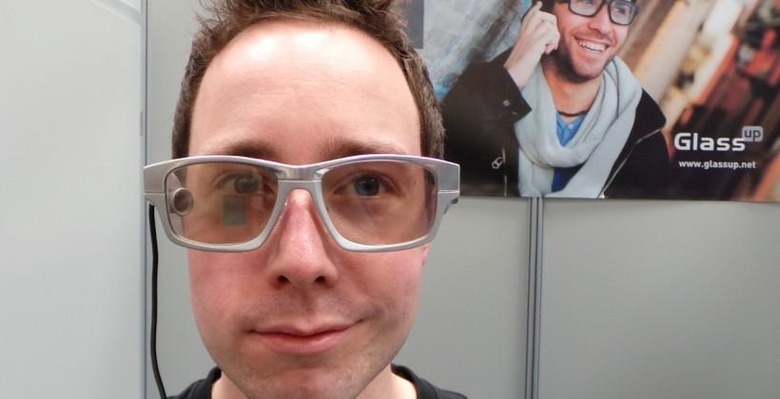 Gagging for Glass but can't afford Google's $1,500 Explorer Edition? GlassUp thinks it may have the answer, a wearable display that looks almost like a regular set of glasses, and harnesses the power of your existing smartphone to flash real-time information into your eyeline. On show in prototype form at CeBIT, and set to ship later in the year, GlassUp takes a more humble approach to wearables than Google does with Glass, making its headset a companion display rather than a standalone computer.
Whereas Glass has a full Android-powered computer integrated into the headset, GlassUp is merely a wireless display, using Bluetooth to link to your Android, iOS, or – eventually – Windows Phone handset. That keeps power consumption down; a standby time of around 150hrs is promised for the first-gen model, or a full day of periodic use such as, say, when emails or Tweets come in. An updated model will use Bluetooth 4.0, making it more power-efficient.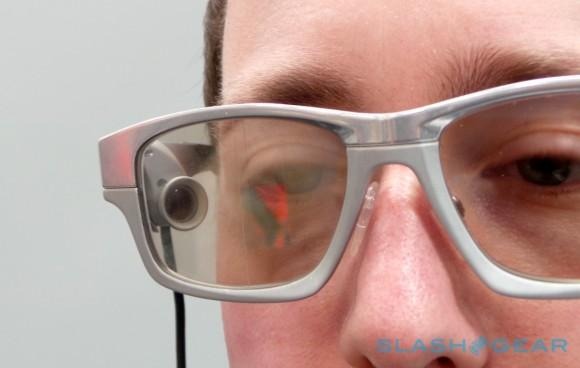 What differentiates GlassUp is the display technology itself. Whereas Google has opted for a transparent prismic display embedded in a glass block positioned at the corner of your eye, GlassUp's patented system uses a micro-projector fixed on the inside of the glasses arm. That focuses a yellow monochromatic image on the inner surface of the right lens, at 320 x 240 resolution. Not enough to replace your phone or tablet for multimedia duties, true, but certainly sufficient for text updates and basic graphics.
Like Glass, there are a fair few sensors and controls integrated into the arm of the glasses: GlassUp has a touch-surface which recognizes tap and double-tap, long-press, and swipe, in addition to a power/control button. There's also an accelerometer, digital compass, ambient light sensor, and altimeter.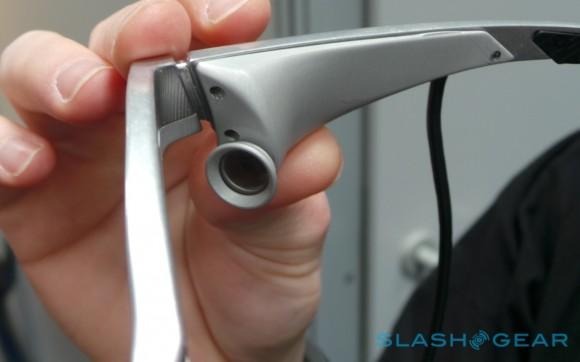 Unfortunately, the prototype GlassUp brought along to CeBIT wasn't market-ready. More striking in its design than the concept – which manages to look reasonably discrete, in a chunky retro way – the silver headset required a USB link to a computer for its display signal and power, and the projection itself is onto a noticeably orange-tinted pane in the right lens. Meanwhile, even when the battery-powered version is ready, if you want to have the display active all the time – such as when navigating, for instance – the runtimes will be "a few hours" rather than the all-day longevity promised with more sporadic use.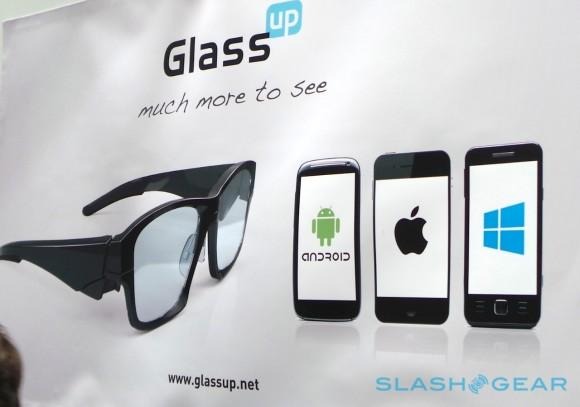 GlassUp argues that, whereas Google's wearable requires users to glance up and to the side to see the display, their system is far more discrete: the information floats directly in your eyeline. Another advantage is availability and price, though neither Glass nor GlassUp are quite ready for the mass-market. GlassUp is accepting preorders for the headset, at €299/$399, with deliveries of the first units expected in September 2013.