Gigabyte P2542G gaming notebook packs quadcore i7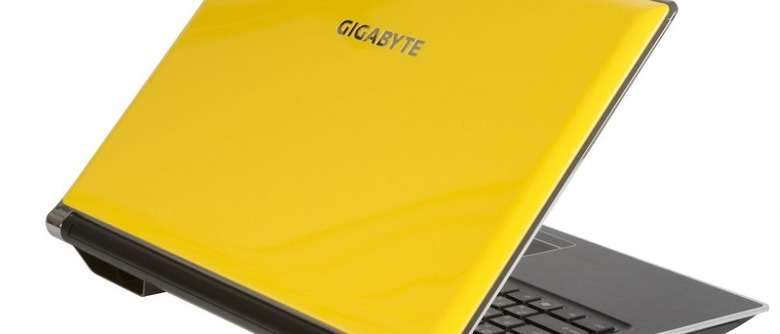 Gigabyte doesn't only have ultrabooks for CeBIT this week; the company also has a 15.6-inch gaming notebook, the Gigabyte P2542G, packing a quadcore Core i7 processor and NVIDIA GeForce GTX 660M 2GB graphics. Following rival gaming machines in opting for an eye-catchingly bright casing, the yellow P2542G has a 1920 x 1080 Full HD LED-backlit display and Blu-ray drive, together with four dual-channel stereo speakers and two separate woofers.
Gigabyte has split the air ducting for the CPU and GPU, giving the P2542G twin air vents and dual heat-sinks that, the company reckons, will keep things comfortably chilly even after a heavy gaming session. Still, we'd probably not leave it on our laps while hammering through levels.
Storage is courtesy of either a 7,200rpm hard-drive or an SSD, while connectivity includes two USB 3.0 ports along with HDMI, though you also get a regular VGA output too. Obviously there's the usual webcam, microphone and the like, studded around the display.
Pricing and availability is unconfirmed at present, though Gigabyte tells us the P2542G is likely to hit the US in late Q2 2012.