Gigabyte M704 UMPC unboxed & reviewed: keyboard disappoints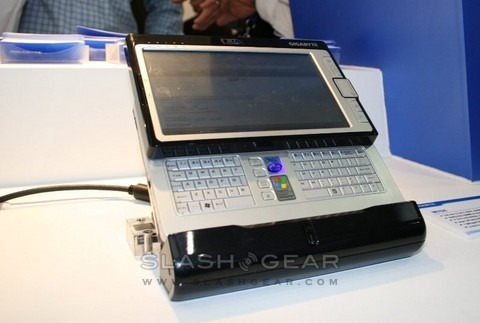 Remember the Gigabyte M704?  Billed as the smallest 7-inch 1024 × 600 UMPC on the market, we briefly spent some time with the 780g device at CEBIT 2008 and came away, if not madly impressed, then at least still curious.  Now Mobile01 have unboxed and reviewed the M704 – complete with its modular GPS and DVB-T accessories, and the docking station – to see if the 1.2Ghz VIA C7-powered Windows XP PC is up to scratch.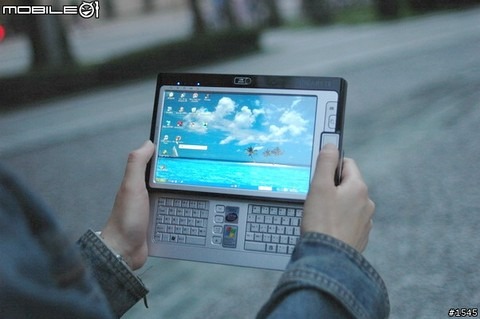 It might be the hand-model in this picture, but the M704 manages to look much bigger than the 7-inch display and 190 x 120 x 30mm dimensions would suggest.  Still, that's all extra space for the split QWERTY keyboard, complete with four shortcut keys down the middle.  Aside from the touchscreen, there's also a dedicated trackpad on the right-hand side.
Thing is, while the keyboard may be spacious the keys themselves aren't up to scratch.  Mobile01 aren't impressed: they're just simple buttons, unlike normal laptop keys, and don't have the tactile feedback for decent typing.  In fact they suggest junking the keyboard altogether, relying solely on handwriting recognition and saving the space that the slide-section takes up.  Mobile01 are hopeful that it'll get tweaked before general release and are still positive about it, but I'm not sure how well that means the M704 holds up compared to non-keyboard UMPCs. 
[via UMPCPortal]