Gigabyte M1125 convertible incoming with Intel Core i-Series CPU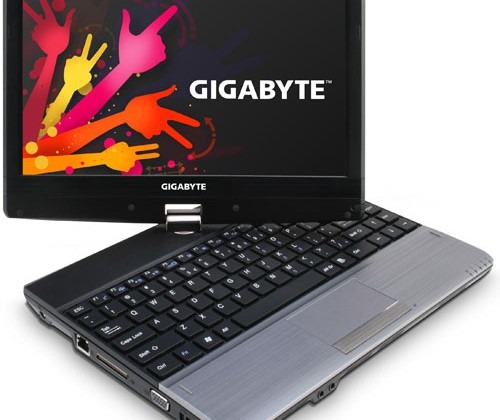 With Computex 2010 kicking off next week, Gigabyte have spilled the beans on some of what we can expect to see.  Among the motherboards – catering both for Intel and AMD's newest hexacore processors – there's a new GV-R587SO-1GD graphics card based on ATI's Radeon HD 5870 GPU.  However, we're most interested in the Gigabyte M1125, spotted in a thumbnail on Gigabyte's site and detailed over at SemiAccurate, an 11.6-inch convertible touchscreen notebook packing a processor from Intel's Core i-Series.
The exact nature of that processor is unspecified, but we wouldn't be surprised to see one of Intel's newly-announced ULV Core i3 chips slotted inside.  Otherwise there's USB 3.0 together with a proprietary docking station port for a dock that will apparently include an optical drive.
Finally there's VGA, audio in/out and ethernet.  No word on what sort of touchscreen Gigabyte are using, but we're guessing it might the sort of multitouch-capable resistive panel we've seen on recent Acer convertible tablets.
Press Release:
GIGABYTE Focuses on Extreme Performance and Flexibility for Computex 2010

Record-breaking components, stylish designs, and unique system accessories to be unveiled at Taiwan's largest IT computer show.

TAIPEI, TAIWAN, May 28, 2010 – GIGABYTE will showcase a wide range of new technologies at Computex 2010 in Taipei, Taiwan. From June 1st to June 5th, the IT manufacturer will exhibit the latest gear and highlight the benefits that end-users can expect.

The newly released GA-X58A-UD9 motherboard shows GIGABYTE's innovative approach to research and development. The new flagship motherboard is considered the most premium motherboard available on the market and already owns numerous overclocking and benchmark world records.

In addition to the Intel-based GA-X58A-UD9, GIGABYTE will release the 800 series motherboards powered by AMD 870, 880GX, 890FX and 890GX chipsets. These new motherboards will support the latest high-end AMD Phenom II X6 six-core processors.

GIGABYTE has also added a new premium graphics card to its product lineup for Computex 2010. The GV-R587SO-1GD is based on the ATI Radeon HD 5870 GPU and was designed specifically for extreme overclocking and gaming battles. The Ultra Durable VGA+ components offer excellent performance and stability during heavy loading.

On the notebook front GIGABYTE has set itself apart by releasing a new ultra lightweight 14-inch notebook called the M1405. In addition to stylish looks, this innovative product also includes a docking station with a built-in Nvidia GeForce 220 graphics card. Users will enjoy the ease of portability when on the go and powerful HD graphics performance when connected to the Booktop docking station.

Another unique component to be shown at Computex 2010 is the Monitor Integrated Box, or MIB for short. It is a computer chassis that includes an adjustable mounting arm with hinge which allows technology enthusiasts to build their very own All-in-One PC.

For media and visitors interested in learning more about the GIGABYTE products that will be shown at this year's Computex show in Taiwan, please visit the GIGABYTE booth at the Taiwan World Trade Center Hall1, D002 from June 1st to June 5th.