Gigabyte M1028 CafeBook touchscreen netbook clears FCC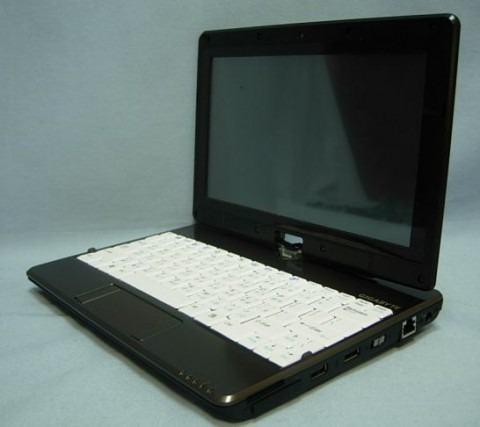 Gigabyte's M1028 convertible touchscreen netbook has cleared the FCC, complete with Intel Atom N280 1.66GHz processor, up to 2GB of RAM, a maximum 250GB HDD storage and optional 3G and/or WiMAX data connections.  Listed under the product name Gigabyte M1028 CafeBook, rather than "Touch Note" as we've seen before, the manual also lists the display as 8.9 rather than 10-inches; we're presuming that's an error rather than an actual spec-change.
Detailed internal shots of the M1028 show the WiFi, Bluetooth, 3G and WiMAX modules, complete with antennas routed through the rotating screen section.  Both four-cell 4,500mAh and six-cell 7,650mAh batteries will be on offer, though there are no runtime estimates for either.
There's also an ExpressCard slot and WiFi a/b/g.  While Gigabyte are yet to make any official announcement regarding the M1028's availability in the US, its presence at the FCC does seem to suggest that it will go on sale there. 
[via Engadget]