Gigabyte Booktop M1022 netbook review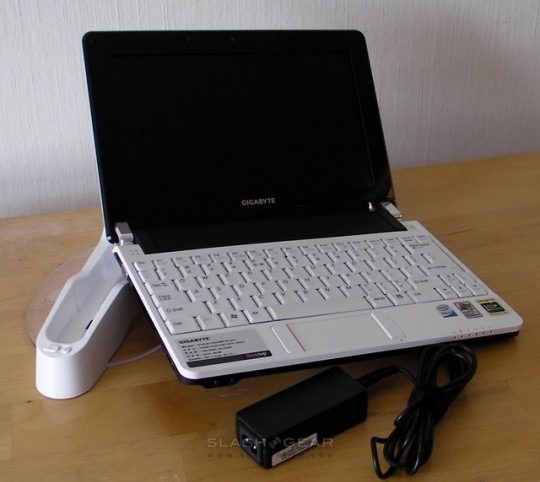 If there's one segment in consumer electronics where it's hard to stand out, it's netbooks.  The race to the bottom line, together with strict rules from component suppliers regarding maximum specifications, means that the hardware of most machines follows the same, tired pattern.  To differentiate, some brands have gone for super-slimline designs, or extended battery life; Gigabyte, meanwhile, have taken a more unusual route.  Their Booktop M1022 netbook comes complete with a desktop docking station; our friends over at Mobilx.hu were good enough to send us a review unit to try out.
Docking stations certainly aren't unusual in the laptop world, and many users – especially in enterprise situations – will have been slotting their notebooks into breakout docks for years now.  Docks for netbooks, though, are less common, although the principle remains the same: have a compact machine, in the M1022's case a 10.2-incher, for travel, then hook it up to a full-sized display, keyboard and mouse with a single connection when you're back at the office.
Gigabyte have taken the middle-ground with the Booktop's dock.  With three USB 2.0 ports, ethernet, VGA output, power and a line-out socket, it provides more than just keyboard/mouse connectivity, but doesn't offer anything that the M1022 itself hasn't got.  The netbook sits upright, connected by a proprietary socket, and there are power and battery buttons on the front panel of the dock so that you can control the M1022 while the screen is closed.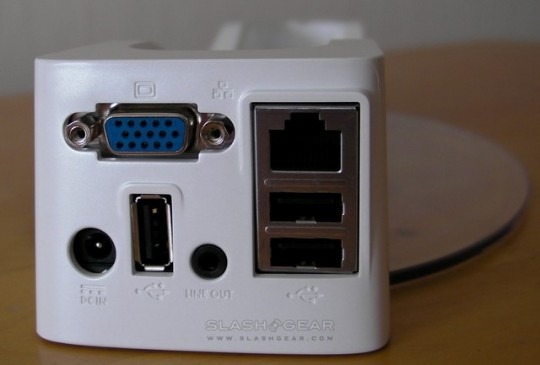 Speaking of the M1022, that treads the usual notebook path of an Intel Atom N270 1.6GHz processor, paired with the company's GMA950 graphics, 1GB of RAM and a 160GB 5,400rpm hard-drive.  There's also WiFi b/g, 10/100 ethernet and Bluetooth 2.1, together with a 6-cell battery, three USB 2.0 ports, VGA, audio in/out, a 1.3-megapixel webcam and an ExpressCard slot.  OS is Windows XP Home, and the whole thing measures 265 x 180 x 27.2-31.3 mm and weighs 1.3kg.
Build quality is very good, both of the netbook and of its docking cradle.  The usual points of concern in budget machines, such as hinges, are sturdy and firm, and we were pleased to see that the M1022 can be opened to almost 180-degrees.  Given that you'll be expecting the dock to support your netbook upright, it's reassuring that the transparent foot-plate provides plenty of support to prevent side-to-side rocking.  Physically dropping the M1022 into the cradle took a while to perfect; the cavity is not a tight fit, meaning there's some movement in trying to line-up the protruding plug with the netbook's port, but even after several days of fumbling there was no flex or movement in the plug itself.  As long as you don't get into the habit of slamming the M1022 home, we reckon the dock should hold up to most treatment.
The keyboard feels similarly well put together, and the layout is generally good.  There's a sensibly-placed right-hand Shift key, often a failing of compact netbook 'boards, though bizarrely there's a second backslash key to the right of the up-arrow.  As for the trackpad, that suffers for the shallow palm-rest and puts its clunky, thudding buttons either side rather than underneath as we'd prefer.  Still, there's little flex, even in the center of the 'board, and there are various useful shortcuts across the function key row for brightness, volume, and independent Bluetooth and WiFi toggles.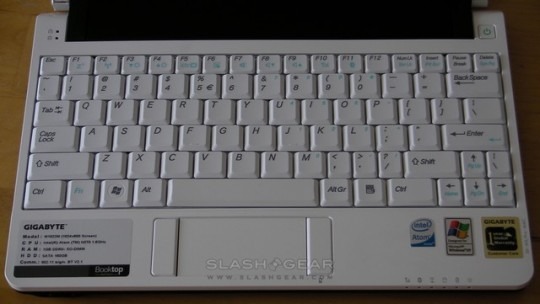 Looking up to the display, and while it's a glossy panel it's nowhere near as reflection-prone as on other recent notebooks we've seen.  The upside, of course, to a glossy screen coating is that it can make colors seem richer, and the M1022 certainly does a decent job at that.  Running at 1024 x 600 resolution, like most netbooks, there's the usual balance of size and webpage zooming, but it's a reasonably crisp and satisfactory panel.
Should you prefer a bigger display, however, hooking up the M1022 to a desktop setup is far more straightforward than for most netbooks.  Thanks to the docking station you can leave your LCD, keyboard mouse, wired network connection and speakers all plugged in, and connect to them with far quicker than dealing with separate wires.  It's also tidier, allowing you to route all the cables neatly out of the way, and of course you can plug in a USB hub should you require more than the three ports on offer.  Since the M1022 is closed when you dock it, there's no multiple-monitor confusion to overcome; you simply have a new (we're presuming larger) display to use. 
We can't help but think that Gigabyte has missed a trick with the Booktop M1022 dock, however.  There are no extra ports that the netbook itself doesn't offer, and you're still limited to 10/100 ethernet rather than gigabit.  More than that, though, we'd have liked to have seen a USB-peripheral port on the dock, which could be used to turn connect the M1022 up to another computer and treat it as an external drive.  That way, copying documents and other files across would be a case of plugging in a USB 2.0 cable.  Still, we're pleased to see that the M1022's ExpressCard slot is still accessible even while the netbook it docked, which means you can continue using a 3G data card plugged in there.
The biggest argument about the Gigabyte Booktop M1022, though, is just how realistic it is, using an Atom N270-based netbook as the basis for your desktop machine.  It's unlikely that Gigabyte expect anybody to be performing any of the graphics, audio or video editing users of more powerful full-sized notebooks may be doing when their machines are docked.  Instead, you're looking at the same internet access, basic document editing, email and messaging as you'd be doing on any netbook, only with more comfortable peripherals.  We saw the same benchmarking figures for the M1022 as for just about every other basic Atom N270 netbook with the same specifications that has crossed our test bench; low 800s in Geekbench, which measures CPU and RAM performance.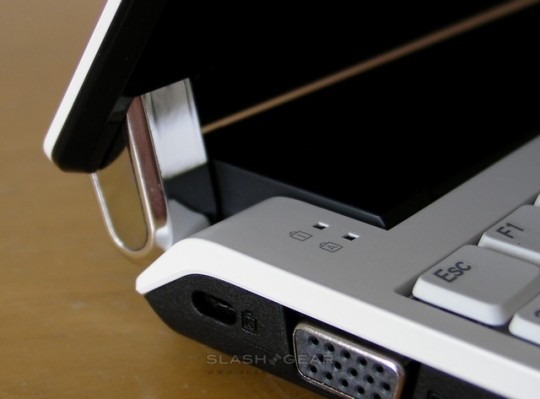 Still, that usage scenario describes an awful lot of PC owners, and there are plenty of people out there contented with what their netbooks are doing for them.  Couple the convenience and portability of a well put-together 10.2-inch machine with the flexibility of using eye- and hand-friendly full-sized peripherals and that's a convenient bonus.  Gigabyte suggest you'll see around 7 hours of use out of the standard 6-cell, 7,800mAh battery pack; that's the usual ambitious estimate, but we saw over five hours of casual browsing over WiFi, typing and emailing.
The Booktop M1022 only starts to make sense when you drop your expectations of notebooks that come with docking stations.  Rather than allowing desktop use of a powerful mobile computer, the Gigabyte permits more comfortable use of a niche product.  If you've considered a netbook but lamented the sub-sized keyboard and display, or a nettop but can't bring yourself to sacrifice portability, then the M1022 offers the best of both.  You'll have to pay for the privilege – importer Mobilx.hu, who generously loaned us our review unit, have the Gigabyte Booktop M1022 listed for $470 (excluding VAT) or €331 (excluding VAT), on top of which you can add integrated 3G – since the Booktop comes in a little more expensive than your average bargain-basement netbook, but the flexibility, build quality and battery life are all one step above rivals.
Gigabyte Booktop M1022 unboxing:
[vms 16ffcbf3314df2b3cb9c]