Getac V100 rugged Tablet PC tested: blindingly good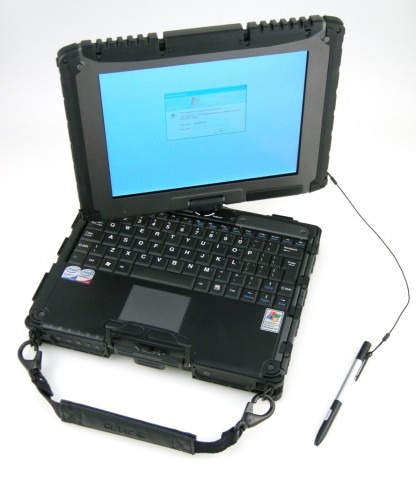 There's sturdy, and there's a laptop so rugged you can throw a punch at the display and not expect it to crack.  The Getac V100 is a convertible Tablet PC intended for outdoor workers who demand blazing-bright screens and MIL-STD 810F and IP54 rugged compliance; according to Tablet PC Review, it might even be too bright.
This latest incarnation of the V100 has a 1.2GHz Intel ULV processor, up to 2GB of RAM (1GB in the tested config) and a 120GB removable hard-drive.  That's a combination that will never toast a nearby Alienware rig, but it's reasonable for a passively-cooled, super-sturdy model like the V100.  The crowing glory is the outdoor-viewable display, rated at 1,200 nits brightness – contrast that with a standard notebook, would be more like 250 nits – and actually painful to look at indoors at full blast. 
Basically, this is a very niche product and one that does pretty much just what it promises to.  Battery life is decent (around 4hrs with the display on minimum, which is still brighter than most notebooks can stretch to) and it's obviously sturdy – all you need to do is find the $3,550 Getac will charge you.