GETAC PS535F rugged PDA with GPS, altimeter & compass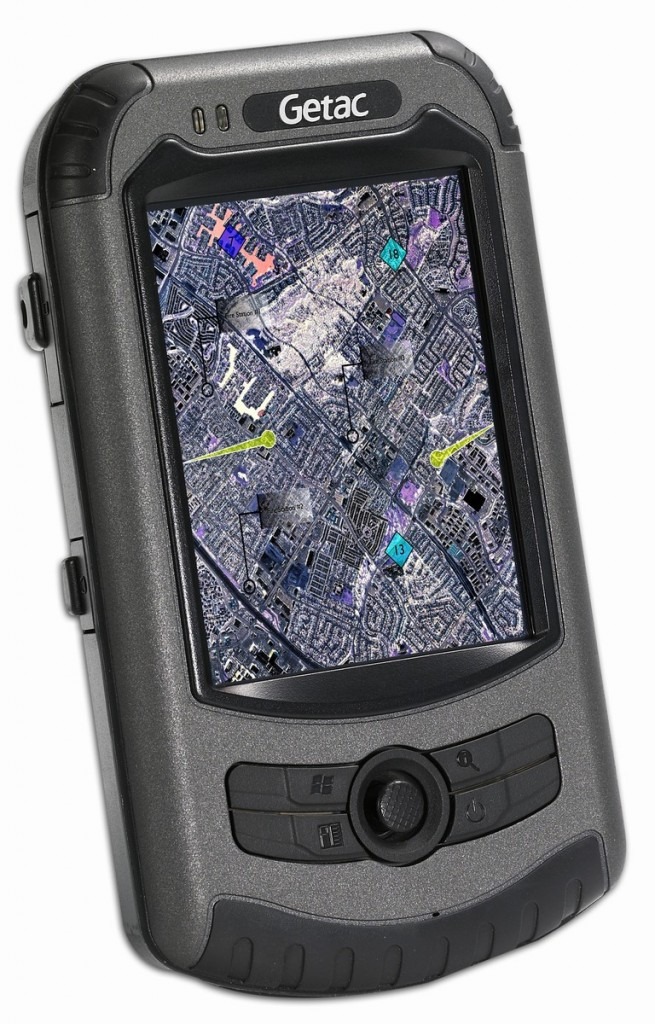 GETAC have announced their latest super-rugged PDA, the GPS-equipped PS535F, complete with MIL-STD 810F compliance and IP54 certification.  The PS535F has a sunlight-readable 3.5-inch VGA touchscreen and an integrated 3-megapixel autofocus camera, together with an altimeter and electronic compass, and runs Windows Mobile 6.1.
Despite the OS, though, the GETAC PS535F doesn't actually have a WWAN modem; instead the company expects you to tether their Bluetooth modem or another cellphone.  As well as Bluetooth 2.0 there's WiFi b/g and an embedded GPS receiver; no memory expansion, though, so you'll have to make do with the 2GB of onboard flash.
As you may have guessed, GETAC aren't really positioning the PS535F as ideal for soccer moms and businesspeople; instead they see their target audience as industrial field workers, environmental engineers and geologists.  We're waiting to hear when it will be released and how much it will cost.
Update: UK price will be £799 ($1,123)Press Release:
GETAC Introduces Its New Fully Rugged GPS / PDA with on Board Camera, Altimeter and E-compass

LAKE FOREST, Calif. –(Business Wire)– Mar 02, 2009 GETAC Inc., a leading innovator and manufacturer of rugged computers that meet the demands of field-based applications, announced the latest addition to its comprehensive line of rugged mobile computing solutions. The GETAC PS535F handheld is the company's next generation, fully rugged GPS-enabled PDA featuring a built-in 3 megapixel auto-focus camera, altimeter and E-compass. These new features will enable field-based employees to capture field data on-site and transmit that data back to headquarters in real-time. In addition, the PS535F will provide pinpoint navigation support for improved location-based productivity, which is critical with search-and-rescue missions.

The PS535F handheld PDA is perfectly suited for GIS surveying applications across different sectors including utilities, oil and gas, forest patrol, and surveying and mapping of geology and mineral resources. The built-in camera enables instant visual data capture in the field, and the 3.5" VGA touch screen display with sunlight readable technology dramatically enhances the viewing quality of graphic-intensive files and detailed maps, even in bright sunlight or snowy conditions.

In addition to its GPS system, the product's built-in altimeter and E-compass provide advanced navigation features such as fixed positioning of longitude, latitude and altitude, as well as the ability to provide directional relations between the targeted subject and the user's position. The PS535F also features comprehensive wireless connectivity options, including integrated Bluetooth V2.0 and 802.11b/g WiFi. Users can connect the PS535F to a GIS server and instantly transmit or process data in the field using a GETAC Bluetooth modem or mobile phone.

"Our customers typically work in high-intensity environments and situations, which demand seamless and accurate information exchange between the main office and field workers," said Jim Rimay, president, GETAC. "The PS535F is the ideal solution for any field application that requires immediate response and action such as fire and rescue teams, utilities technicians, and Park Rangers. A great example is forest patrols reporting the location and fire hazard conditions to a fire center to assist fire rescue planning. Ultimately, GETAC's PS535F handheld device improves overall operational efficiencies and productivity, which for firefighters can be a lifesaving feature."

The GETAC PS535F features Windows Mobile 6.1 software for quick access to email, the Internet, texting and other means of mobile communications. Weighing a mere 10.7 ounces, the device can operate at full capacity for up to 8-hours on a fully-charged battery and is MIL-STD 810F compliant and IP54 certified to operate without failure under the most extreme weather conditions, environments and everyday abuse associated with its user base.

Getac PS535F Main Features

3.5" VGA Touch Screen Display

533MHz Samsung 2450 processor

Microsoft Windows Mobile 6.1

128Mb onboard MDDR

2GB onboard NAND Flash Storage ROM

MIL-STD 810F and IP54 compliant

Embedded GPS Receiver

3.0 Megapixel On-Board Camera

Altimeter and E-Compass

Integrated Bluetooth V2.0 and 802.11b/g capability

Sunlight Readable Display solution (optional)

8 Hour Battery Life

Dimensions: 5.7" x 3.2" x 1.2"

Weight: 10.6 oz