Get Trine Series 1-3 for Switch Lite now, or all 4 in October?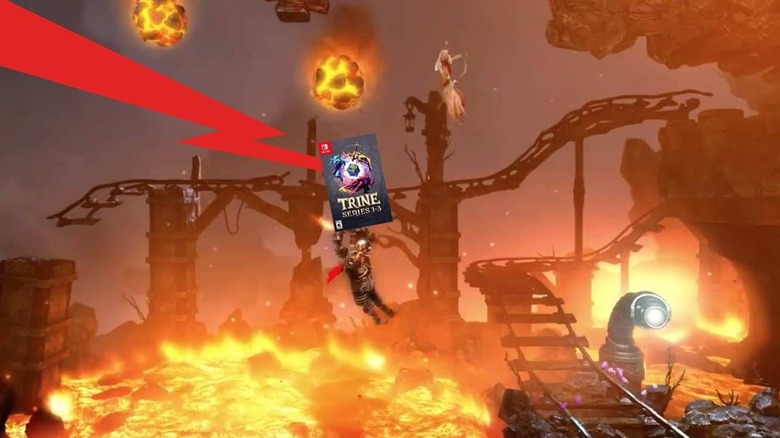 Game series Trine will be released in a 3-pack for Nintendo Switch on the 20th of September, 2019. This is the same date as the launch of the Nintendo Switch Lite at retailers like GameStop. Trine is a low-key side-scrolling magical adventure game that's been appearing on a variety of platforms for a full two decades. The game's first three releases will appear on Nintendo Switch all at once for less than the average single AAA game – and it might just be ideal for the likes of new Switch users everywhere.
This game series started on Windows and PlayStation 3 back in mid-2009, and appeared for the first time on OS X in late 2010. The series moved on to PlayStation 4 in December of 2014, and appeared on Wii U in March of 2015. Nintendo Switch was announced to roll with the Trine series back in November of 2018 for the first time.
One of the most key elements in Trine shares a name with its latest platform. It counts on your ability to switch between characters. You'll get three characters with which to advance through a magical realm, running through puzzles and figuring out your way around, over, under, or straight through enemies.
Trine Series 1-3 will appear for approximately $40 USD this month for Nintendo Switch. It'll be available for both the original Switch and the Switch Lite at once. Have a peek at the timeline below for additional bits about the Switch Lite if you're awaiting that piece of hardware.
Trine 4: The Nightmare Prince was previously announced for release in October of 2019. At that time, it's scheduled for release on PC, PS4, Xbox One, and Nintendo Switch. If you can wait that long, you'll find "Trine: Ultimate Collection" available with all 4 games at once – albeit with additional pieces of paper and whatnot for a higher price, of course.