Get Serious With Outdoor Grills
Looking like an instrument of medieval torture and guaranteed to dominate your patio, The Grillery is a range of outdoor grills that knock your disposable barbecues and cheap catalogue specials into a particularly well-cocked hat.  Available in two models – the impressive 23-inch wide 2007 Standard and the frankly scary double-width 2007 Grillworks – both have 18-inch deep cooking surfaces, adjustable rack height and a patented juice-catching surface.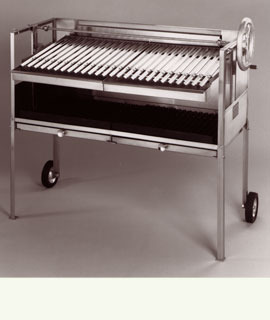 Constructed fully from stainless steel, the eye-catching wheel on the right side is there to ratchet the grill up and down with a full 16-inches of movement so that you can control temperature.  There are also two six-position rotisseries, ideal for a good spit-roast, and the juices from everything are slurped down V-shaped channels to collect in a tray at the front.  Then you can baste or discard, but either way you won't burn your eyebrows off when a splash of fat catches fire.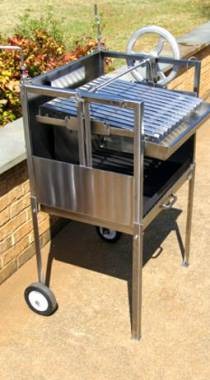 Premium outdoor cooking doesn't come cheap, mind; the Standard comes in at $1,875 while the Grillworks hits $2,825.  Both are available now.
The Grillery [via Uncrate]