Kitchen appliances continue to get smarter, and now it's the microwave promising easier cooking and Amazon Alexa integration. The GE Smart Countertop Microwave debuts the company's Scan-to-Cook system, with a companion smartphone app that can identify packaged food and automatically beam the correct power and time instructions to the oven.
It's a reaction, GE Appliances says, to the fact that though most microwaves have on average ten different power settings, may owners never actually change them from the default. Although cooking faster might seem like an obvious benefit from leaving the power set to its maximum, it doesn't necessarily suit every food.
Rather than demand that you read the instructions on the box, however, or – worse still – figure out exactly what your microwave can actually do, Scan-to-Cook does all that itself. It's been programmed to recognize over 3,000 different meals, GE says, spanning microwave mainstays like frozen dinners, through refrigerated and shelf-stable foods. Over time there'll be more meals added, the company promises.
As for Alexa, the microwave doesn't have Amazon's assistant baked in – no pun intended – but can be paired with an Echo smart speaker. Once that's done, you can set the cook time by voice, extend cooking via a spoken command, change the power level, and stop the whole thing if you spot your dinner bubbling over from across the room. Since the Echo and the microwave don't have to be in the same room, you could also control it from elsewhere in the house.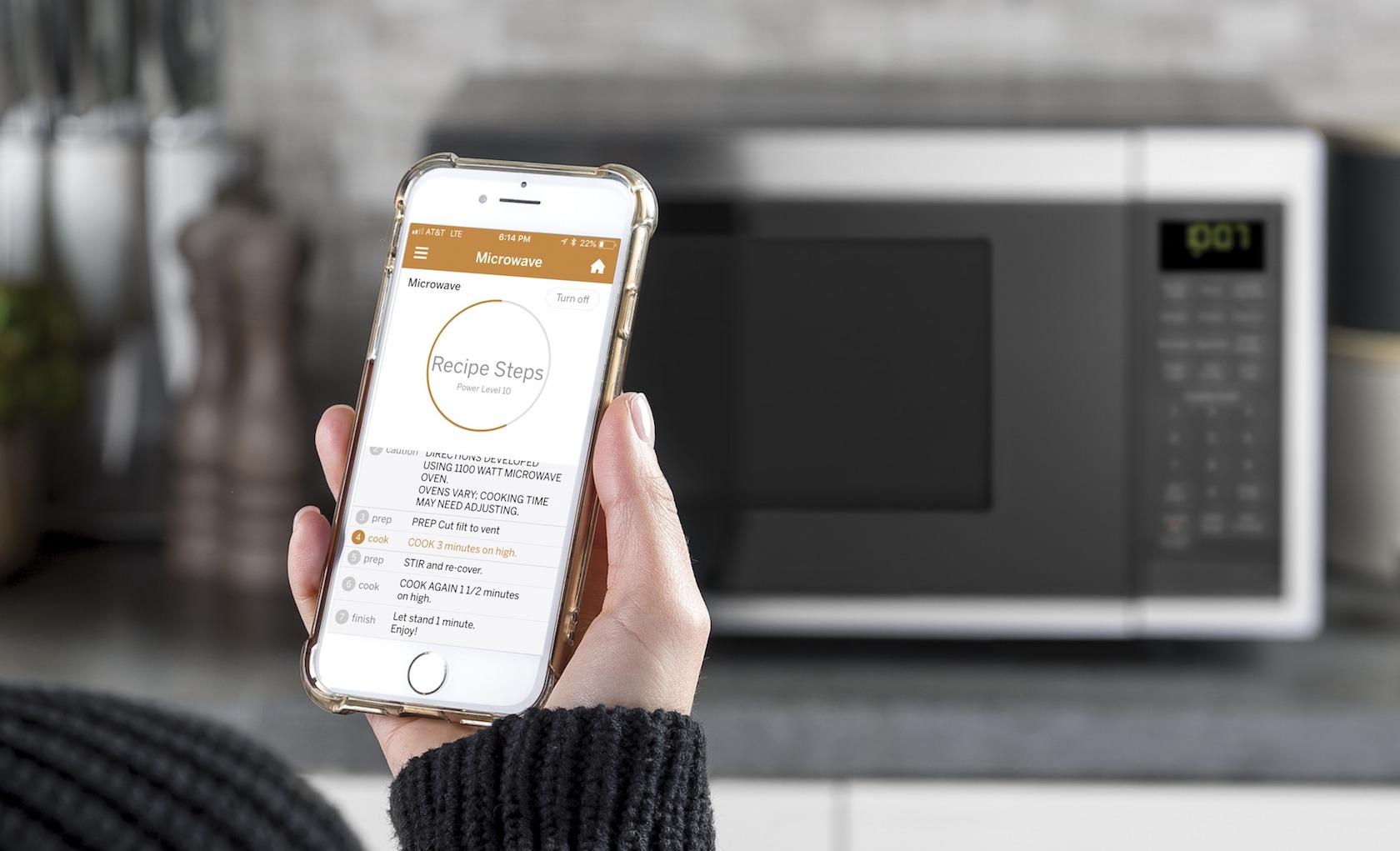 The microwave itself has a 0.9 cubic foot capacity, and is 900 watts. It's finished in stainless steel, and there's sensor reheating which can automatically adjust the settings for seven different items – beverage, dinner plate, pizza, popcorn, potato, reheat, and vegetable – using the front panel controls. Those controls mean that, even if you give up on the app and Alexa, you can still use the Smart Countertop Microwave as, well, just a regular microwave instead.
This isn't GE's first foray into getting the kitchen online in the Internet of Things. Back at CES 2018 in January, the company revealed its new Alexa- and Google Assistant-enabled light fixtures and switches, which can be used to add hands-free voice control. Earlier appliances include connected ovens, along with a dishwasher that can automatically re-order detergent through Amazon Dash integration.
Sales kick off from today, with the microwave priced at $139. From July 18, meanwhile, it'll be bundled with an Echo Dot, and priced at $125.
UPDATE: GE made an error with the pricing in the original press release and wished to make the following correction "The MSRP of the microwave is $139 and the bundle of the microwave and the dot is $154.98 beginning tomorrow for a limited time."
SlashGear uses affiliate links, and sometimes if you buy something we'll get a small commission from the sale