German car consortium ready to pay for Nokia's HERE maps [UPDATE]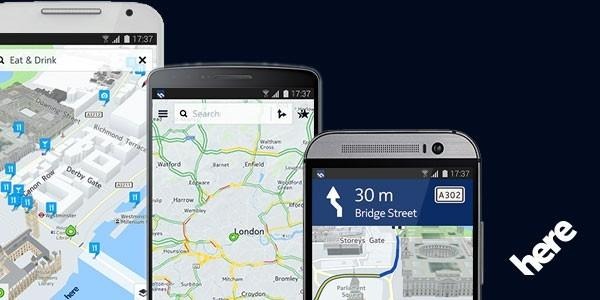 If this latest bit is true, Nokia might soon finally be able to unburden itself of yet another business tangential to its new found focus in networking technology. As earlier reported, a consortium of German automobile makers, namely Daimler, BMW, and Audi, are looking into purchasing Nokia's HERE maps business. Now it seems that the ball has started rolling, as the companies are said to have agreed to dole out 2.9 billion EUR, roughly $3.2 billion, to buy out what is probably the third, or even second, most popular map and navigation product in the market.
Ever since Nokia sold off its mobile business to Microsoft, it has become a company in search of a purpose. It has dipped its toes in various endeavors, like an Android launcher and even an Android tablet. But it's most successful, or at least high profile, remaining product has always been HERE maps. So it's almost puzzling to see it trying to sell it off to numerous rumored interested parties.
That list of prospective buyers have so far included Uber, Facebook, and China's Tencent. Even Google itself was said to be in the running, probably for the purpose of integrating it into Maps and then killing it. However, news of that may have pushed these German car makers into outbidding the tech giant. Navigation systems have become part and parcel of modern cars and Daimler, for one, is intent on ensuring the security of such systems. Admittedly, it will be easier to do that with something you own than one that has to pass through Google first.
Naturally, none of the companies have confirmed, nor denied, the reported amount, though almost all of them, at one point or another, have signified interest in the acquisition. For its part, once it has removed almost all distractions, Nokia will be focusing on its own 15.6 billion EUR ($17.1 billion) purchase of Alcatel Lucent to become the world's second largest network hardware provider.
[UPDATE] It has just gotten real. Nokia has announced that their HERE business has indeed been bought for 2.8 billion EUR (roughly $3.1 billion), naming Audi AG, BMW Group, and Daimler AG as "The Constortium". Equally interesting is what Nokia President and CEO, Rajeev Suri, has to say about the acquisition.
"With this step we complete the latest stage of Nokia's transformation. We integrated the former Nokia Siemens Networks, divested our Devices & Services business, and have now reached agreement on a transaction for HERE that we believe is the best path forward for our shareholders, as well as the customers and employees of HERE. Going forward, we will focus on our planned combination with Alcatel-Lucent. Once that is complete, Nokia will be a renewed company, with a world-leading network technology and services business, as well as the licensing and innovation engine of Nokia Technologies."
Once the HERE acquisition closes, Nokia's businesses will be reduced to two: Nokia Networks for broadband infrastructure software and services, and Nokia Technologies for advanced technology development and licensing.
SOURCE: Business Insider