GelaSkins for iPad Review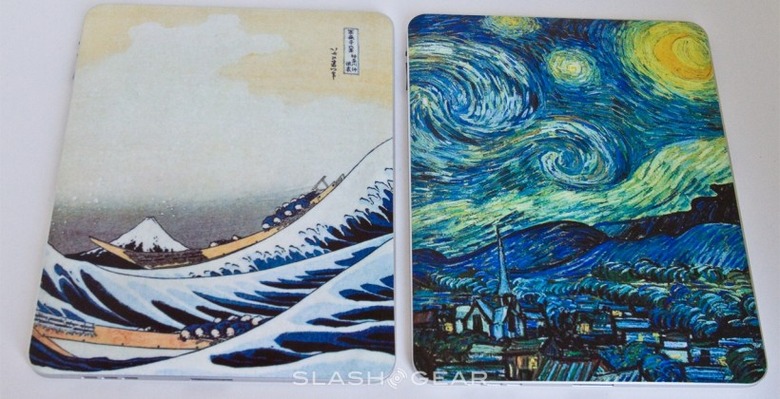 GelaSkins aren't new – the company have been cladding scratch-prone mobile gadgets for years now – but their iPad range certainly is. Promising the same balance of distinctive designs, scuff protection and easy application, we've been testing out the adhesive skins on the iPad this week. Read on for the full SlashGear review.
While the iPad seems reasonably durable, thanks to Apple's use of lashings of aluminum and glass, as we said in our review we can see owners being particularly cautious about potential cosmetic blemishes. However, part of the tablet's appeal is its slender profile, and so cases – like, admittedly, Apple's own – tend to add more than a little bulk.
The alternative, then, is skin-style protection. These generally work in one of two ways: either a non-adhesive stretchy sky, usually made of silicon, which you pull over your iPad, or a set of adhesive panels which add even less to the dimensions but aren't really suitable for daily swapping. GelaSkins' range falls into the latter category, using a 3M-developed adhesive film that comes either in a variety of patterns or as an option to create your own.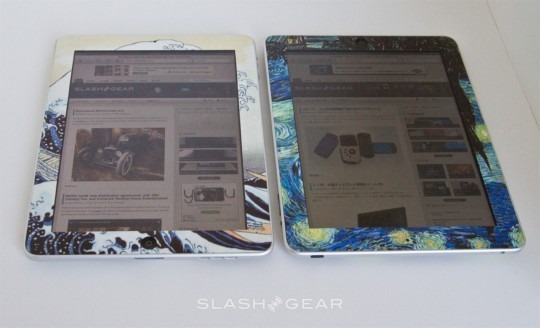 For the iPad, the GelaSkins set consists of a back panel which covers the entirety of the aluminum back plate (including the Apple logo) and a front frame for the screen bezel. There's also a matching wallpaper which you can set, to make the effect a little more seamless; some wallpapers basically repeat the back pattern, while others – like the eBoy designs – are different front and back. The plastic finish is smooth but still grippier than a naked iPad.
Application is ridiculously simple, with the 3M film somehow managing to avoid the air bubbles we expected to have to deal with. You'll want to take a moment to get everything lined up straight, and spend a few minutes making sure the front and back of the iPad are clean, but you can certainly have them fitted in a matter of minutes. Should you decide you're tired of the design, the GelaSkins peel off leaving no residue; it's worth remembering that they're not designed to be reused after removal, though if you were particularly careful we suppose you could probably re-apply once.
For $29.95, are the GelaSkins worth it? If you're completely paranoid about damage then you'll probably still want to opt for a regular case; while a GelaSkins-clad iPad will happily resist most scratches in a bag, the skin won't do anything to protect against impact damage. If you've already got a well-padded rucksack, though, intend to keep the iPad only for home or office use, or merely want to brighten up its design – there are 86 regular GelaSkins, and of course you can upload your own images and get a custom one for the same price – then a whole separate case might be overkill. We certainly feel happier about scratch-resistance with the GelaSkin in place, and while we'd be more enthusiastic with $10 knocked off the price tag and the ability to (officially) use them more than once, we can't fault the product itself.