Geely Geometry A Revealed To Undercut Tesla's Model 3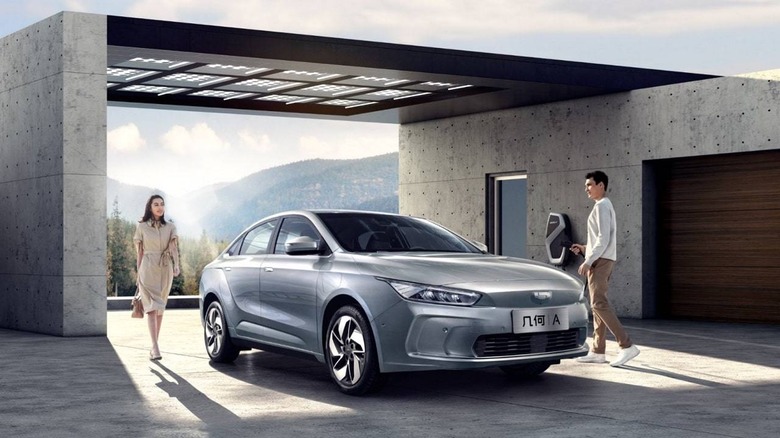 Geely has revealed its Model 3 competitor, with the Geometry A promising Tesla-style tech and range, but at a more affordable price. The Chinese automaker – and Volvo owners – revealed not only the new sedan but the new Geometry brand too in Singapore, with this only the first in an ambitious roadmap of new EVs.
Indeed, by 2025, Geely expects the Geometry line-up to include ten pure-electric models. That will span everything from sedans through crossovers, SUVs, and MPVs. Each will use a letter as a name.
First up will be the Geometry A. Designed by Geely Design Shanghai, it's a combination of sleek aerodynamics – for a drag co-efficient of 0.2375cd, impressively low – and ensuring plentiful cabin space. The exterior shouldn't prove too dramatic on the street, though Geely has punctuated it with interesting elements like pop-out door handles.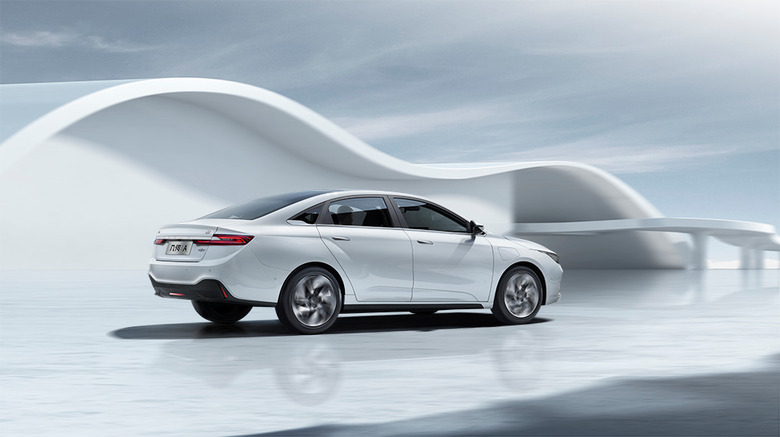 Inside, Geely says the focus was minimalism. Again, it's the detailing where things get interesting, with laser-engraving for trim panels, geometric patterns, and zero-profile touch controls. Geely is putting a focus on the eco-credentials of its materials, too, with unexpected results. The fabric for the seats, for example, is apparently "EU-certified baby skin-safe."
Up to 310 miles of range
The most important part, though, is under the Geometry A's skin. The car will use a new EV drivetrain that Geely developed, along with CATL ternary lithium batteries. There's fast charging support, which the automaker says should take the Geometry A from 30-percent to 80-percent in 30 minutes.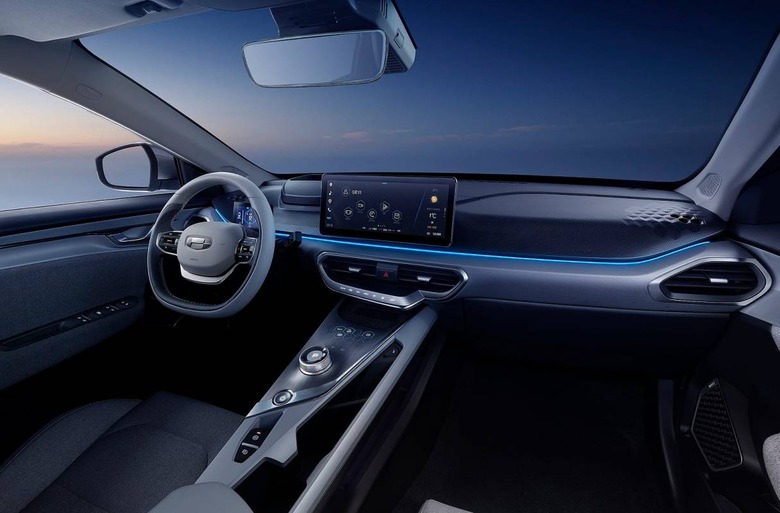 Two range options will be offered, standard with a 51.9 kWh battery, and long range with a 61.9 kWh battery. The former promises up to 410 km (255 miles) on the European NEDC cycle, while Geely says the latter should do up to 500 km (310 miles). It's worth noting that the NEDC cycle typically delivers more range in testing than the US' EPA cycle would.
Meanwhile, Geely is also offering what it's calling the Super E Energy Station system. That's effectively an external power outlet, allowing drivers to use the Geometry A's batteries to run other things. If you're tailgating, for instance, you could run lamps, music systems, or other devices from the EV's power supply.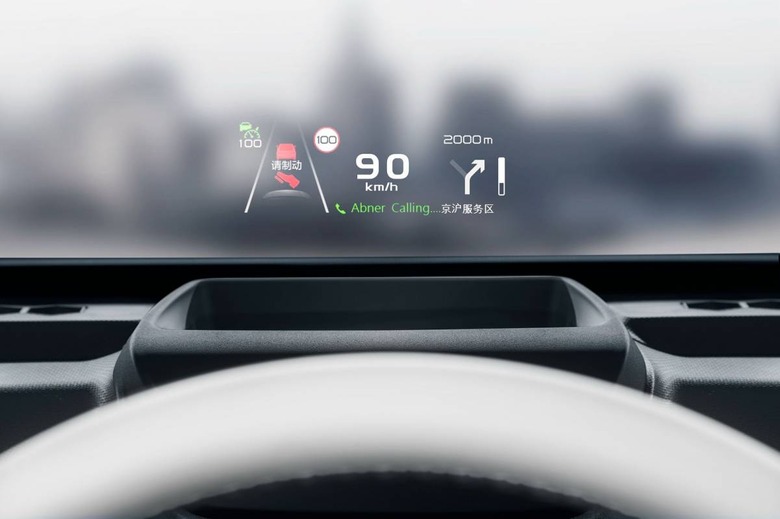 As for performance, Geely's drivetrain should deliver up to 120 kW of power and up to 250 Nm (184 lb-ft) of torque. The Geometry A should do 0-62 mph in 8.8 seconds, Geely says. That's on the slow side for an electric car.
The Geely take on Autopilot
Just as the Model 3 has Autopilot, so Geely will be offering Level 2+ driver assistance on the Geometry A. A suite of cameras and millimeter wave radar will deliver adaptive cruise control, lane keeping assistance, lane changing assistance, and various safety features under the "L2+" brand, and be included on all trims. They'll include front and rear collision warnings, blind spot detection, automatic emergency braking with pedestrian recognition, and door-open warnings.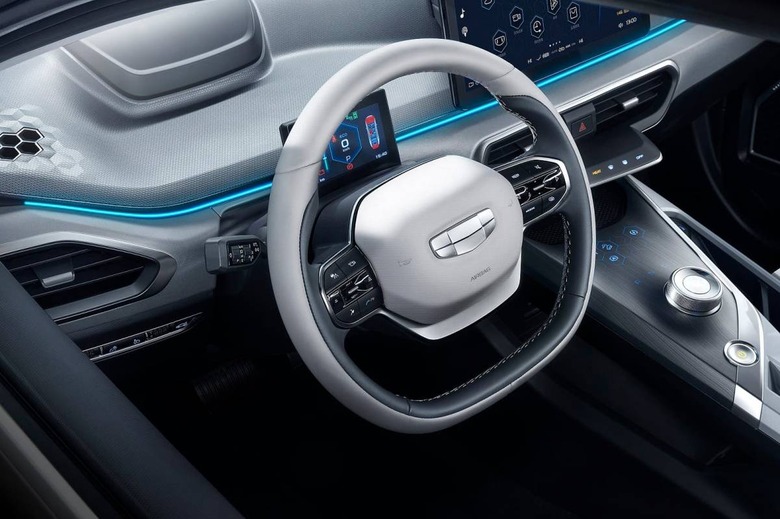 The surround-view cameras and other sensors will also allow for features like auto-park and a top-down camera view. Inside, there'll be a voice assistant and HD driving recorder, logging footage as the car drives.
Other security features will get brought into the smartphone age. The glove box lock, for example, will use a password rather than a key; the child lock doors can be controlled with a button on the car, or remotely from a phone. Geely is doubling-down on privacy, too: incoming caller ID from a paired phone will only be shown on the head-up display, for instance.
Priced for an electric sandwich
Geely will have six versions of the Geometry A: three different trims – the base A2, mid-tier A3, and top-spec An – each offered in standard and long-range battery configurations. They'll be impressively competitive in price.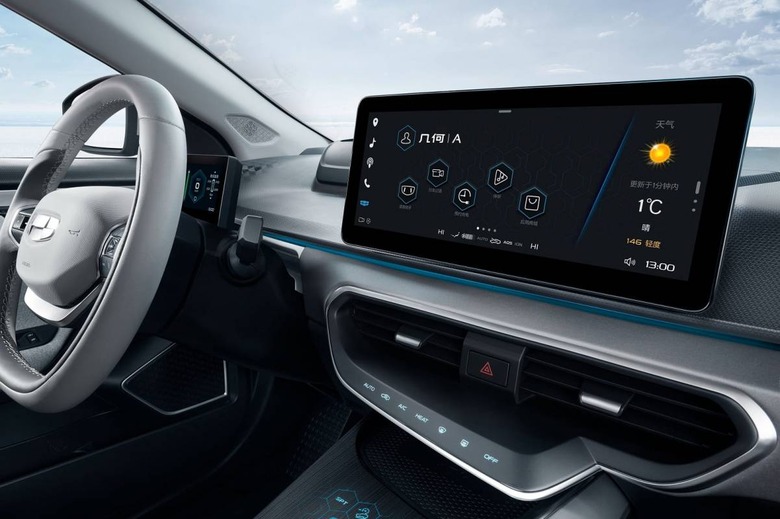 The line-up will kick off with the Geometry A2 standard range, at 210,000 RMB (or approximately $31,250). The A3 standard range will be the equivalent of $32,700, wheel the An standard range will be $34,200. That's before any market subsidies or incentives.
The Geometry A2 long range, meanwhile, will start at 230,000 RMB (approximately $34,200). The A3 long range will be $35,700, while the top-spec An long range will be $37,200.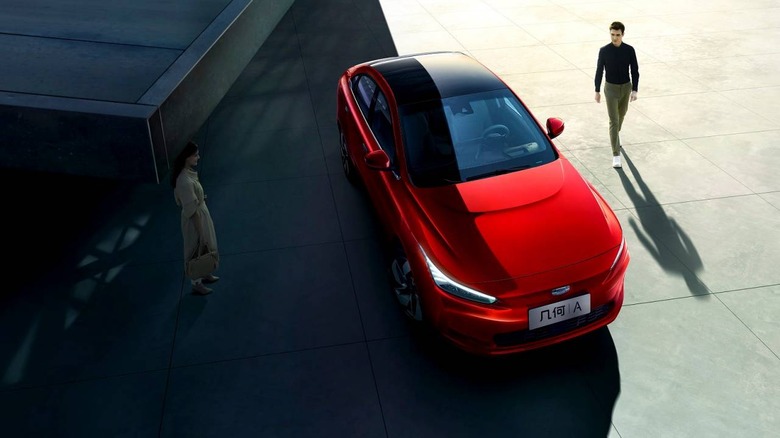 Geely is clearly hoping to sandwich the Tesla Model 3 with its overall EV portfolio. Undercutting it will be this new Geometry A. Competing at the higher end of the Model 3's price range will be the Polestar 2, the all-electric four-door recently revealed by the Volvo spin-off. Geely, of course, is the financial backer to both Volvo and Polestar, and we're now starting to see how the combined line-ups will fill out with EVs.
A global promise - but no US release details
Geely is certainly making all the right noises to get would-be EV buyers in the US excited about Geometry A. It's listing the car's pricing in US dollar equivalents, after all, and talking about how the car should hold up in US safety testing. However there's no sign of a release date, or indeed any confirmation at all that the Geometry brand will be active in the US.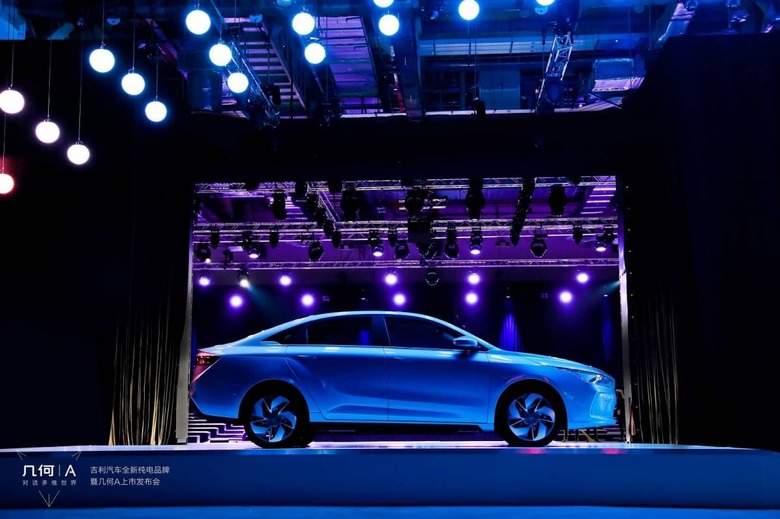 Instead, Geely says it has already received "over 27,000 orders" for the car, of which 18k are from overseas customers. It name-checks Singapore, Norway, and France.
That might mean Geometry never actually makes it to the US. Geely certainly has other options there: along with Volvo – which is launching a pure-electric model soon – and Polestar, there's also LYNK & Co, the Chinese-Swedish EV brand formed as yet another joint-venture between Geely and Volvo. Its cars are expected to slot in-between the Geometry and Volvo ranges.